Carrie Chen Qiong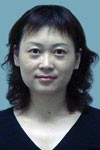 Inside Sales Manager, China
Indium Corporation
Phone: +86 (0) 512 628 34900
E-mail: cchenqiong@indium.com

Biography
Carrie Chen Qiong is the Inside Sales Manager for Indium Corporation in China. Based in Suzhou, she works closely with the sales and technical teams to provide sales and marketing support throughout China. Additionally, she manages the internal sales department. Carrie coordinates customer inquiries, customer service, and assists in coordinating local marketing efforts, such as trade shows, seminars, sales meetings, and more.
Carrie joined Indium Corporation in 2007. She has a bachelor's degree in Water Supply and Drainage Engineering from Northeast University in China.
From One Engineer to Another®
All of Indium Corporation's products and solutions are designed to be commercially available
unless specifically stated otherwise.
Indium Corporation uses cookies to provide you with the best possible experience on our website. By using our website, you agree to the placement of cookies on your device.
Read more about our use of cookies here.