Christopher Bastecki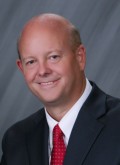 Americas Sales Manager
Indium Corporation
Phone: +1 (315) 853-4900
E-mail: cbastecki@indium.com
Address: 34 Robinson Rd, Clinton, NY USA 13323
Biography
Chris is Associate Director of Electronics Assembly Materials. In this role, he manages the sales efforts for the Americas, as well as the marketing efforts of Indium Corporation's solder paste products. In addition, Chris manages the company's headquarters-based technical support team.
Chris joined Indium Corporation's team in 2012, and has more than 20 years of experience in electronics materials marketing, sales, and business management. He has a bachelor's degree in Metallurgical Engineering from the University of Pittsburgh and an MBA from Carnegie Mellon University. He has participated in numerous leadership programs, as well as Six Sigma training.
From One Engineer to Another®
All of Indium Corporation's products and solutions are designed to be commercially available
unless specifically stated otherwise.
Indium Corporation uses cookies to provide you with the best possible experience on our website. By using our website, you agree to the placement of cookies on your device.
Read more about our use of cookies here.