Irene Leow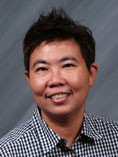 Regional Sales Manager, Southeast Asia
Indium Corporation
Phone: +65 96716469
E-mail: ileow@indium.com

Biography
Irene Leow is Indium Corporation's Regional Sales Manager for Southeast Asia (including Australia and New Zealand). Based in Singapore, she is responsible for sales growth, and developing, expanding and strategizing business for the semiconductor, electronics assembly, and thermal markets.
Irene joined Indium Corporation in 1996. She has more than 20 years of experience in the electronics industry.
Irene has a diploma in Chemical Process Technology. In her spare time she enjoys fishing and traveling.
From One Engineer to Another®
All of Indium Corporation's products and solutions are designed to be commercially available
unless specifically stated otherwise.
Indium Corporation uses cookies to provide you with the best possible experience on our website. By using our website, you agree to the placement of cookies on your device.
Read more about our use of cookies here.