Ricky Canlas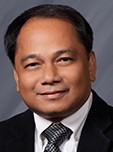 Area Sales Manager, Philippines
Indium Corporation
Phone: +63 9189286685
E-mail: rcanlas@indium.com

Biography
Ricky Canlas is Indium Corporation's Country Sales Manager for the Philippines. Based in Manila, he is responsible for sales growth of the company's soldering products, focusing primarily on the semiconductor assembly markets. Products include solder paste and wire, engineered solders, thermal management materials, and semiconductor materials.
Ricky joined Indium Corporation in 2008 and has over 15 years of experience as a process engineer in the semiconductor industry. He has a bachelor's degree in Science and Electrical Engineering from Tarlac State University.
From One Engineer to Another®
All of Indium Corporation's products and solutions are designed to be commercially available
unless specifically stated otherwise.
Indium Corporation uses cookies to provide you with the best possible experience on our website. By using our website, you agree to the placement of cookies on your device.
Read more about our use of cookies here.