Tom Pearson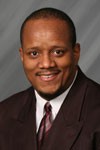 Sales Manager, Southern California and Arizona, USA
Indium Corporation
Phone: +1 (315) 853-4900 x7564
Mobile: +1 (315) 527-6491
E-mail: tpearson@indium.com
Address: 34 Robinson Road, Clinton, NY 13323
Biography
Tom Pearson is the Regional Manager for Southern California and Arizona. He is responsible for selling Indium Corporation's full range of products for electronics, semiconductor, and solar assembly, which include solder paste, solder preforms, fluxes, and thermal interface materials. In addition, Tom oversees a regional team of sales representatives and distributors for the Western USA.
Tom joined Indium Corporation in 1983. He holds an associate's degree in mechanical engineering and a bachelor's degree in business management. He lives in Phoenix, AZ and his interests include fishing, spending time with family, hiking, and movies.
From One Engineer to Another®
All of Indium Corporation's products and solutions are designed to be commercially available
unless specifically stated otherwise.
Indium Corporation uses cookies to provide you with the best possible experience on our website. By using our website, you agree to the placement of cookies on your device.
Read more about our use of cookies here.