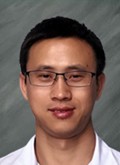 Assistant Area Technical Manager - SMT
Indium Corporation
E-mail: gwang@indium.com

Biography
Geoff is the Assistant Area Technical Manager - SMT covering Zhongshan, Guangzhou, Shenzhen, Sichuan, Jiangxi, and Jiangmen. He is based in Zhongshan, Guangdong.
Geoff has more than a decade of surface mount technology (SMT) experience. Prior to joining Indium Corporation, he served as SMT Technology Section Manager at Zhongshan Wistron. Geoff earned a bachelor's degree from Guilin University of Technology.
In his spare time, Geoff enjoys playing basketball, swimming, running, and biking.