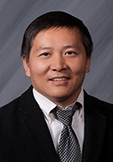 Area Sales Manager,
Northern and Eastern China
Indium Corporation
Phone: +86 (0)512 62834900
E-mail: jli@indium.com

Biography
Jesse Li is a Sales Manager in China. Based in Suzhou, he is responsible for developing and managing the sales growth of the company's soldering products, including solder paste, wire, preforms, and thermal interface materials for customers in Shanghai, Jiaxing, Wuxi, and North China. Additionally, he oversees the activities of Indium Corporation's distributors and sales representatives in those areas.
Jesse joined Indium Corporation in 2008 as a Technical Support Engineer for East and North China. He was promoted to Sales Manager in 2011 and has over 11 years of experience in the surface mount technology industry.
Jesse is an SMTA-Certified Process Engineer. He has a bachelor's degree in mechanical and electrical engineering from Liaoning Technical University in Fuxin, Liaoning, China.