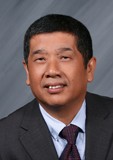 Sales and Technical Support Manager, Southern China
Indium Corporation
Phone: +86 13913553545
E-mail: mxing@indium.com
Address: Unit No. 14C, Suchun Industrial Square, No. 428 Xinglong Street, Suzhou Industrial Park, Jiangsu, China 215126
Biography
Mike is sales and technical support manager for Indium Corporation's metals, compounds, and solar products in southern China, and provides sales and technical support. Mike is based in Guangzhou, China.
Mike joined Indium Corporation in 2008. He has more than 30 years of industrial work experience, including managing quality and environment, health, and safety (EHS) requirements for process development and operations in Indium Corporation's Suzhou facility.
Mike has a bachelor's degree in polymer science and engineering from the South China University of Technology.