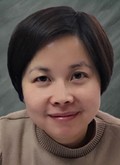 Area Tech Manager,
Eastern China
Indium Corporation
Phone: +86 (0)51262834900x8315
Mobile: +86 1350 626 4715
E-mail: wqu@indium.com
Address: Suzhou, PRC
Biography
Wisdom Qu is a Senior Technical Support Engineer in eastern China. She provides technical support for Indium's electronics assembly materials, semiconductor and advanced assembly materials, and epoxy flux products. She is based in Suzhou, PRC.
Wisdom has over nine years of experience in surface-mount technology and has been a technical support engineer with Indium Corporation since 2005. In 2007, she was recognized by Indium Corporation for her expertise with the Silver Quill Award for Best Paper/Presentation of the year. Wisdom has presented at several technical conferences and customer sites.
Wisdom has a degree in mathematics from Hubei Radio and Television University in China. She is an SMTA Certified Process Engineer.