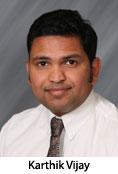 Indium Corporation Technology Expert Presenting at EMPC
August 9, 2011
Indium Corporation's Technical Manager Karthik Vijay will present his technical findings at the European Microelectronics and Packaging Conference (EMPC), September 12-15, 2011, in Brighton, UK.
Karthik will present Miniaturization - Solder Paste Attributes for Maximizing the Print & Reflow Manufacturing Process Window. This paper describes the development of a flux technology platform to realize print consistency, eliminate head-in-pillow, obtain complete solder coalescence and prevent clumpy solder joints, and achieve very low voiding.
Karthik will also present Power Electronics - Solder TIMs (Thermal Interface Materials) for Improved Thermal Management, which discusses the work done on solder TIMs that have been developed for high-power applications and how they compare to thermal grease.
These papers will be available online at www.indium.com/techlibrary/whitepapers/ after publication at EMPC.
Karthik joined Indium Corporation in 2003. He earned his master's degree in Industrial Engineering with a specialization in Electronics Packaging & Manufacturing from the State University of New York at Binghamton. He is an SMTA-certified engineer and earned his Six-Sigma Green Belt certification from Dartmouth College's Thayer School of Engineering.
Indium Corporation will also participate in the exhibition September 13-15. For more information about EMPC 2011, visit www.empc2011.com.
Indium Corporation is a premier materials supplier to the global electronics, semiconductor, solar, thin film and thermal management markets. Products include solders, preforms, and fluxes; brazes; sputter targets; indium, gallium, and germanium chemicals and sourcing; and Reactive NanoFoil®. Founded in 1934, Indium has global technical support and factories located in China, Singapore, South Korea, the United Kingdom, and the USA.
For more information about Indium Corporation visit www.indium.com or email abrown@indium.com.