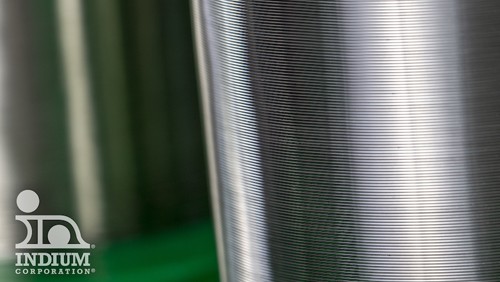 Indium Corporation Announces Ultrafine 0.006" (0.15mm) Flux-Cored Wire Capabilities
May 9, 2019
Indium Corporation announces that it is now offering ultrafine flux-cored wire down to 0.006" (0.15mm) in diameter for standard Pb-free alloys.
Indium Corporation's ultrafine flux-cored wire was developed to meet the progressively demanding requirements for increased solder joint density and miniaturization in applications where solder paste reflow and other soldering approaches are not effective, such as robotic soldering, fine-pitch component attachment, and hand soldering. Indium Corporation flux-cored wire offers:
Evenly wound layers onto the spools to avoid tangles during use
Consistent diameters that meet the most stringent requirements
No flux voids within the wire for consistent, worry-free soldering
Indium Corporation uses only "conflict-free" and grade A (per ASTM B32) metals, as well as other high-purity metals for its flux-cored wire. All materials have been tested and certified to meet IPC J-STD-004B and other relevant industry specifications, including the legacy military specification QQ-S-571F.
Featured flux vehicles for the 0.006" wire is Core 230-RC (REL1) and CW-808 (REL0). Both of these fluxes were developed for robotic soldering applications and contain Indium Corporation's low-spatter technology.
For more information, visit https://www.indium.com/flux-and-epoxy/flux-cored-wire/ or contact Robert McKerrow, Product Specialist – Flux-Cored Wire, Wave Solder Flux, and Bar Solder, at rmckerrow@indium.com.
Indium Corporation is a premier materials manufacturer and supplier to the global electronics, semiconductor, thin-film, and thermal management markets. Products include solders and fluxes; brazes; thermal interface materials; sputtering targets; indium, gallium, germanium, and tin metals and inorganic compounds; and NanoFoil®. Founded in 1934, the company has global technical support and factories located in China, Malaysia, Singapore, South Korea, the United Kingdom, and the USA.
For more information about Indium Corporation, visit www.indium.com or email abrown@indium.com. You can also follow our experts, From One Engineer To Another® (#FOETA), at www.facebook.com/indium or @IndiumCorp.