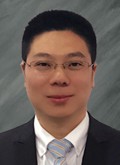 Indium Corporation Expert to Present at SiP Conference China 2019
August 29, 2019
Indium Corporation's Aaron Yan, Area Technical Manager, Semiconductor, will present at the SiP Conference China 2019, September 10-11, in Shenzhen, China.
Yan's presentation, Novel Water-Soluble Flux Study for Heterogeneous Integration Assembly, will detail a high-viscosity, high-tack flux designed to be used to secure components at the placement and reflow stage allowing the flux residue to be cleaned. He will also present the characteristics and strengths of the developed flux, WS-446HF, including its excellent wetting, low voiding performance, and elimination of dendritic residues.
Yan is based in Suzhou, China, and provides technical support for Indium Corporation's electronics assembly materials, semiconductor and advanced assembly materials, and engineered solders and thermal management materials. He has a bachelor's degree in Industry and Commerce Administration from Suchow University in China. He is a Certified SMT Process Engineer and has more than 18 years of experience in surface mount technology and semiconductor materials applications.
For more information on Indium Corporation's materials for heterogeneous integration, visit www.indium.com/HIA or visit Indium Corporation's booth.
Indium Corporation is a premier materials manufacturer and supplier to the global electronics, semiconductor, thin-film, and thermal management markets. Products include solders and fluxes; brazes; thermal interface materials; sputtering targets; indium, gallium, germanium, and tin metals and inorganic compounds; and NanoFoil®. Founded in 1934, the company has global technical support and factories located in China, India, Malaysia, Singapore, South Korea, the United Kingdom, and the USA.
For more information about Indium Corporation, visit www.indium.com or email abrown@indium.com. You can also follow our experts, From One Engineer To Another® (#FOETA), at www.facebook.com/indium or @IndiumCorp.