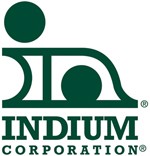 Indium Corporation Promotes Tech Careers at National Manufacturing Day Expo
October 8, 2019
Indium Corporation, Utica's Technology Company®, will showcase a wide range of manufacturing careers with an interactive display at this year's National Manufacturing Day Expo, which will be held at Mohawk Valley Community College on Friday, Oct. 18 from 8:30 a.m.–2 p.m. in the Jorgensen Athletic and Events Center.
The expo is part of a national initiative with activities held throughout the month all around the country. This initiative is designed to help show students and job seekers the significance of modern manufacturing careers and their value to the local, regional, and national economy.
"Indium Corporation is proud to participate in events like National Manufacturing Day to help encourage students to explore STEM careers and inspire the newest generation of manufacturing professionals right here in the Mohawk Valley," said Jim McCoy, Talent Acquisition Supervisor.
Indium Corporation actively participates with students, teachers, and administrators at many grade levels to encourage and enable every student to explore STEM education and careers. This includes delivering presentations, participating in job and career fairs, hosting tours, and maintaining one of the area's largest and most sought-after summer college internship programs.
Indium Corporation is a premier materials manufacturer and supplier to the global electronics, semiconductor, thin-film, and thermal management markets. Products include solders and fluxes; brazes; thermal interface materials; sputtering targets; indium, gallium, germanium, and tin metals and inorganic compounds; and NanoFoil®. Founded in 1934, the company has global technical support and factories located in China, India, Malaysia, Singapore, South Korea, the United Kingdom, and the USA.
For more information about Indium Corporation, visit www.indium.com or email abrown@indium.com. You can also follow our experts, From One Engineer To Another® (#FOETA), at www.facebook.com/indium or @IndiumCorp.