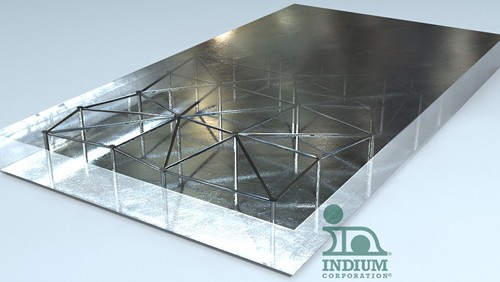 Indium Corporation to Feature InFORMS® Reinforced Solder Preforms at Productronica
November 7, 2019
Indium Corporation will feature its reinforced solder alloy fabrications, InFORMS®, at Productronica, November 12-15, Munich, Germany.
Indium Corporation is redefining solder with its InFORMS® solder preforms and patent-pending solder ribbon. InFORMS® are a composite solder material with a reinforcing matrix. This results in:
Improved mechanical and thermal reliability
Uniform bondline thickness
Low-voiding performance
InFORMS® do more than just bond two surfaces—they are designed to address specific challenges of the power electronics industry. InFORMS® provide engineers with an enhanced material for the development of more reliable and higher performance modules. Due to the planarity improvements and stand-off tolerances, the package design becomes more predictable. In addition, stronger and more dependable joints allow for high power densities.
For more information about InFORMS®, visit www.indium.com/informs or visit the Indium Corporation at Productronica, Hall A4, Booth 214.
Indium Corporation is a premier materials manufacturer and supplier to the global electronics, semiconductor, thin-film, and thermal management markets. Products include solders and fluxes; brazes; thermal interface materials; sputtering targets; indium, gallium, germanium, and tin metals and inorganic compounds; and NanoFoil®. Founded in 1934, the company has global technical support and factories located in China, India, Malaysia, Singapore, South Korea, the United Kingdom, and the USA.
For more information about Indium Corporation, visit www.indium.com or email abrown@indium.com. You can also follow our experts, From One Engineer To Another® (#FOETA), at www.facebook.com/indium or @IndiumCorp.