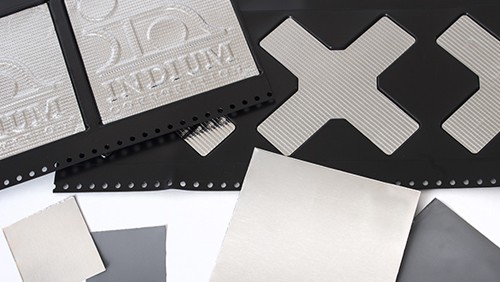 Indium Corporation Features Metal Thermal Interface Materials for Burn-In and Test at BiTS Workshop 2017
February 15, 2017
Indium Corporation will feature its metal thermal interface materials for burn-in, including Heat-Spring® and HSMF-OS, at Burn-in & Test Strategies Workshop on March 5-8 in Phoenix, Ariz.
Indium Corporation's Heat-Spring® is designed for use in the burn-in process. It is patterned to optimize contact with non-planar surfaces and provides 86W/mK of thermal conductivity using a pressure range of only 35-100+ psi. Heat-Spring® is available in alloys including InAg, InSn and pure indium.
HSMF-OS is a multi-layer construction with a total thickness of 0.004" that is designed for high insertion capability. The interface, consisting of aluminum and non-silicone polymer, has a tensile strength of approximately 90MPa with a soft, compliant polymer backing, which provides a configuration with "designed-in" insertion survivability.
To learn more about Indium Corporation's metal thermal interface materials for burn-in and test, visit www.indium.com/thermal-management/burn-in-and-test.
For more information about Indium Corporation, visit www.indium.com or email abrown@indium.com. You can also follow our experts, From One Engineer To Another® (#FOETA), at www.facebook.com/indium or @IndiumCorp.