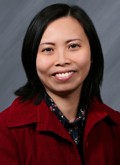 Indium Corporation's Lim to Present at ICEP 2017
March 16, 2017
Indium Corporation's Sze Pei Lim, Semiconductor Product Manager for Asia, will present at ICEP 2017 on April 19-22 in Tendo, Japan.
Lim's presentation, Benchmarking Study for High-Temperature and High-Reliability Pb-Free Die-Attach Material Technologies and Expectations, will discuss the results of an industry-wide survey initiated by iNEMI. The survey was designed to benchmark the availability of high-temperature Pb-free die-attach materials, the technological feasibility for the same, and ongoing industrial trends. Lim will detail survey insights on industrial preferences and outline potential lead-free materials.
Lim has more than 20 years of experience in the PCB assembly and semiconductor packaging industries and is highly respected in her field. She earned her bachelor's degree in chemistry from the National University of Singapore and has 17 years of experience in the SMT and PCB assembly industries. She is an SMTA-certified process engineer and has a Six Sigma Green Belt. Lim joined Indium Corporation in 2007.
Indium Corporation is a premier materials manufacturer and supplier to the global electronics, semiconductor, thin-film, and thermal management markets. Products include solders and fluxes; brazes; thermal interface materials; sputtering targets; indium, gallium, germanium, and tin metals and inorganic compounds; and NanoFoil®. Founded in 1934, Indium has global technical support and factories located in China, Malaysia, Singapore, South Korea, the United Kingdom, and the USA.
For more information about Indium Corporation, visit www.indium.com or email jhuang@indium.com. You can also follow our experts, From One Engineer To Another® (#FOETA), at www.facebook.com/indium or @IndiumCorp.