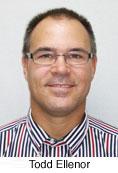 Indium Corporation Hires New Metallurgical Process Engineering Manager
October 21, 2010
Indium Corporation announces that Todd Ellenor, Ph.D., P.Eng., has been hired as the Metallurgical Process Engineering Manager. He is based at Indium's global headquarters in Clinton, NY.
Dr. Ellenor leads the development, planning, implementation, and management of extractive, refining, and purification technologies for customers as well as new metallurgical opportunities.
Dr. Ellenor earned his Ph.D. with a major in Chemical Engineering and Applied Chemistry and a minor in Environmental Engineering, from the University of Toronto. He is a registered professional engineer (P.Eng.) in the province of Ontario, and is approved by the Ontario Ministry of the Environment as a Qualified Person for site assessments and risk assessments. Additionally, Dr. Ellenor has co-authored over thirty patents, technical papers, and presentations.
Dr. Ellenor has extensive experience in engineering, management and R&D, internationally.
Indium Corporation is a premier materials supplier to the global electronics, semiconductor, solar, thin film and thermal management markets. Products include solders, preforms, and fluxes; brazes; sputter targets; indium, gallium, and germanium chemicals and sourcing; and Reactive NanoFoil®. Founded in 1934, Indium has global technical support and factories located in China, Singapore, South Korea, the United Kingdom, and the USA.
For more information about Indium Corporation, visit www.indium.com or email abrown@indium.com.