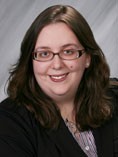 Indium Corporation Product Specialist to Present at ICSR
May 7, 2013
Indium Corporation's Brook Sandy-Smith, Product Support Specialist – PCB Assembly Materials, will present at the International Conference on Soldering and Reliability on Friday, May 17 in Toronto, Canada.
Sandy-Smith's presentation, Reliability Challenges for Bottom Termination Components, discusses electro-chemical reliability, assembly defects, and alloy reliability of bottom termination components, such as BGAs, CSPs, MLFs, QFNs, and D-Paks. Additionally, this presentation will cover the unique challenges for bottom termination components and strategies for optimization.
Sandy-Smith serves as a technical liaison between Indium Corporation's customers and internal departments, such as research and development and production, to ensure the best quality and selection of products. She earned two degrees from the international engineering program at the University of Rhode Island: one in chemical engineering with a focus on materials, the other in German language.
The International Conference on Soldering and Reliability brings together engineers and scientists involved in the design and manufacture of medical devices, and monitoring and control instruments. A special emphasis is on preparation for the requirements of RoHS recast, also known as RoHS 2. ICSR is held in conjunction with the Surface Mount Technology Association's Toronto Expo and Tech Forum.
Indium Corporation is a premier materials manufacturer and supplier to the global electronics, semiconductor, solar, thin-film, and thermal management markets. Products include solders, preforms, and fluxes; brazes; sputtering targets; indium, gallium, and germanium metals and inorganic compounds; and NanoFoil®. Founded in 1934, Indium has global technical support and factories located in China, Singapore, South Korea, the United Kingdom, and the USA.
For more information about Indium Corporation visit www.indium.com or email abrown@indium.com.