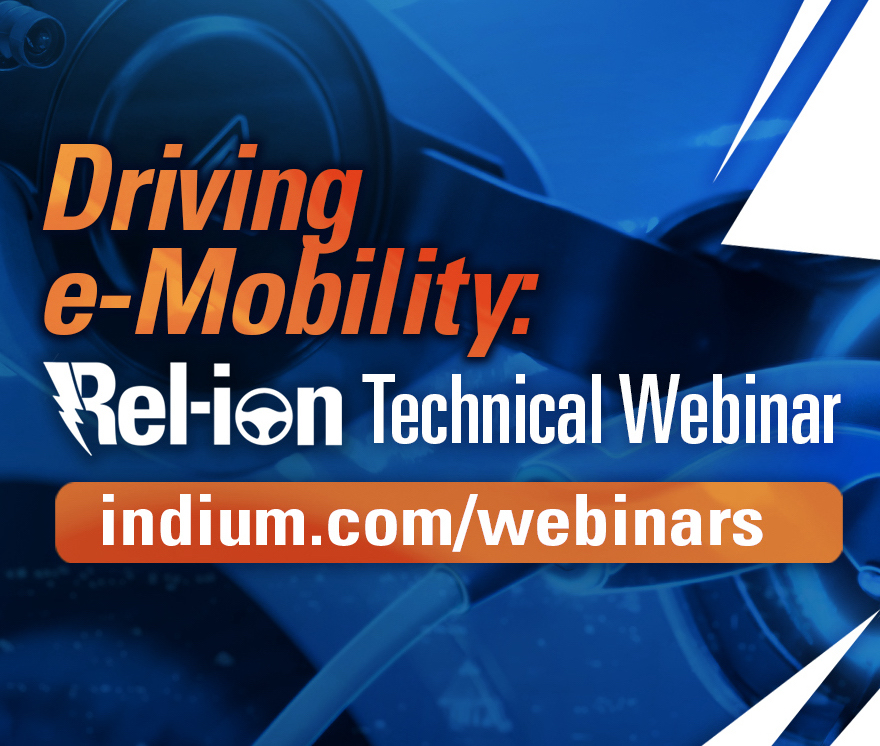 EV Experts to Share Technical Insights with Driving e-Mobility: Rel-ion™ Technical Webinars
March 23, 2022
As part of its popular InSIDER Series of webinars, Indium Corporation is excited to launch a new series focusing on the opportunities and challenges present in the rapidly evolving electric vehicle market, Driving e-Mobility: Rel-ion™ Technical Webinars.
The series will feature global industry technical experts in advanced materials and the automotive market with all sessions moderated by Brian O'Leary, Indium Corporation's global head of e-Mobility and infrastructure. Featured experts will include Regional Technical Manager and Technologist for Advanced Applications Andreas Karch, Applications Engineer – Design for Excellence Specialist Ângelo Marques, R&D Senior Technologist David Sbiroli, Associate Director for Global Technical Service & Application Engineering Jonas Sjoberg, and Technical Manager for Europe, Africa, and the Middle East Karthik Vijay.
This series is intended specifically for those involved in the field of e-Mobility, whether new to the industry or with several years of experience.
"As the electric vehicle landscape evolves before our eyes, it is a vitally important time to ensure industry-wide communication," O'Leary said. "The Driving e-Mobility: Rel-ion™ Technical Webinar series is part of Indium Corporation's effort to share our technical expertise with the goal of advancing this exciting, emerging market in a responsible manner."
The first session in the Driving e-Mobility: Rel-ion™ Technical Webinar series is set to launch on April 6 with two opportunities to participate: the first at 8:30 a.m. Germany/12 p.m. India/2:30 p.m. China, Malaysia and the second at 7 a.m. San Francisco/10 a.m. New York/3 p.m. London/4 p.m. Germany. This session, titled Increasing Requirements for Electrical Reliability in Automotive Applications, will feature Karch and focus on the demands faced by materials used in electronic assemblies, particularly in the area of "no-clean" solder pastes with emphasis on surface insulation resistance (SIR).
Registration for the first session of the Driving e-Mobility: Rel-ion™ Technical Webinar series is now open and can be completed at indium.com/corporate/media-center/webinars/rel-ion.php. If you are interested in a session specifically tailored to your company's needs, please contact Brian O'Leary.
Karch has more than 20 years of automotive industry experience in PCB assembly and power electronics, including the advanced development of customized electronics. He is the recipient of an award for developing one of the top 10 innovative patents for automotive LED assembly.
O'Leary is responsible for promoting Indium Corporation's full range of products and services for e-Mobility, which includes electric cars, trucks, and charging stations. He has more than 20 years of experience in sales, marketing, and channel management in the electronics industry.
While dates are forthcoming, here is a preview of future sessions in the Driving e-Mobility: Rel-ion™ Technical Webinar series.
May: Updated Reliability Requirements – Part II: Voiding presented by Sbiroli
June: Building More Reliable Assemblies for Higher Mission Profiles presented by Vijay
September: Design Considerations for Board Layout & Material Selection co-presented by Sjoberg and Marques
October: Manufacturing Best Practices presented by Sbiroli
About Indium Corporation
Indium Corporation is a premier materials refiner, smelter, manufacturer, and supplier to the global electronics, semiconductor, thin-film, and thermal management markets. Products include solders and fluxes; brazes; thermal interface materials; sputtering targets; indium, gallium, germanium, and tin metals and inorganic compounds; and NanoFoil®. Founded in 1934, the company has global technical support and factories located in China, Germany, India, Malaysia, Singapore, South Korea, the United Kingdom, and the U.S.
For more information about Indium Corporation, visit www.indium.com or email Jingya Huang. You can also follow our experts, From One Engineer To Another® (#FOETA), at www.linkedin.com/company/indium-corporation/ or @IndiumCorp.