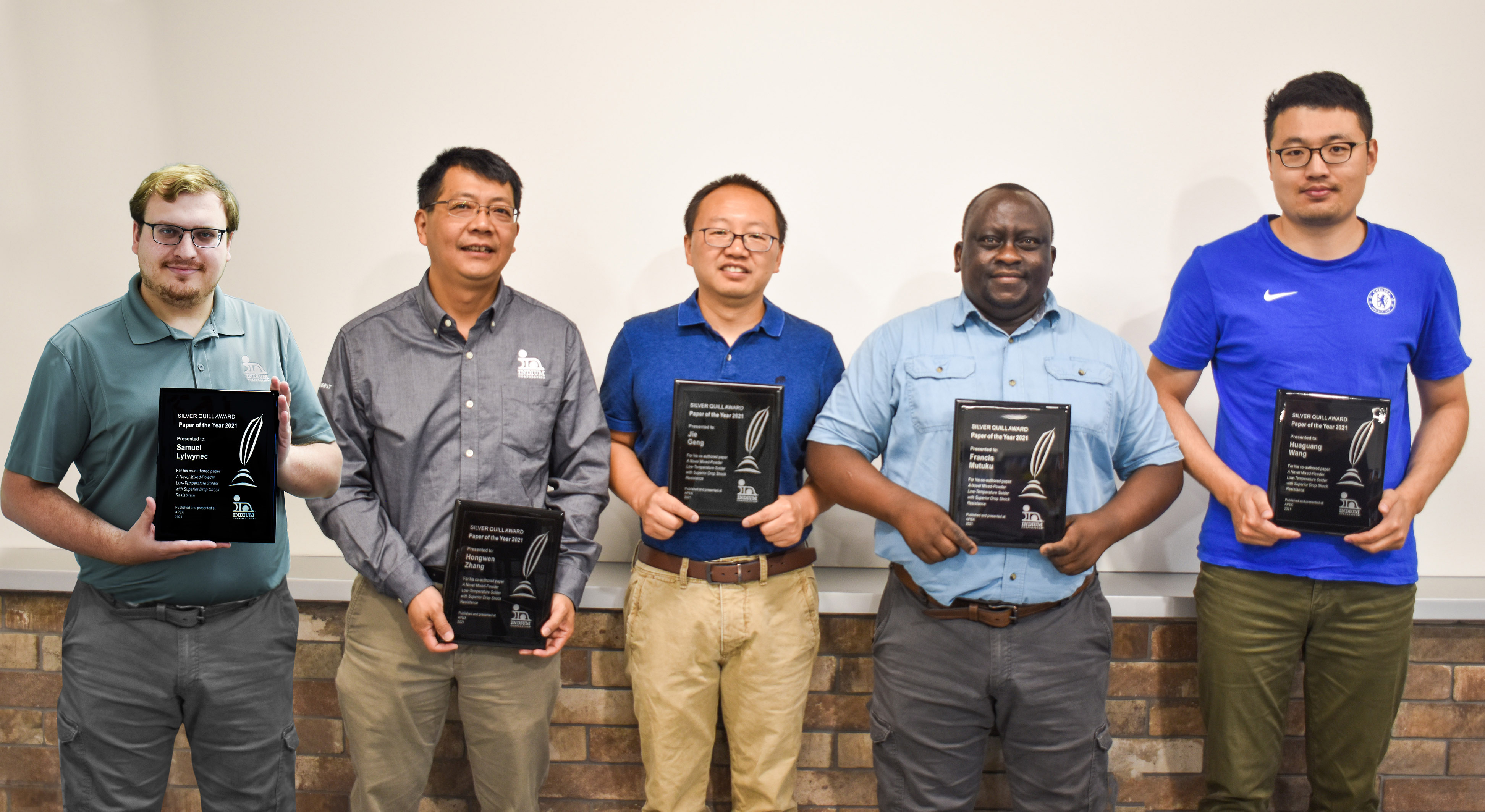 Indium Corporation Announces Silver Quill Award Winners
June 16, 2022
Indium Corporation has honored six of its employees for their industry contributions with its annual Silver Quill Award.
Indium Corporation's Silver Quill Award program recognizes individuals who have authored original technical content in the form of conference papers, articles, presentations, and blog posts. It was designed to award employees for generating leading-edge research and thought-leadership technical content that addresses issues concerning customers in the electronics industry.
The following employees were honored with the 2021 Paper of the Year award:
Dr. HongWen Zhang, R&D manager – alloy group, Samuel Lytwynec, technical support engineer, and research metallurgists Huaguang Wang, Dr. Jie Geng, and Francis Mutuku.
The paper, A Novel Mixed-Powder Low-Temperature Solder with Superior Drop Shock Resistance, was published and presented at APEX 2021 and focuses on a study which examines the strengths of Indium Corporation's innovative low-temperature alloy system, Durafuse™ LT. In the study, Durafuse™ LT delivered superior drop shock resilience, outclassing bismuth-tin (BiSn) or bismuth-tin-silver (BiSnAg) alloys, and performing better than SAC305 with optimum process setup.
Special recognition was given to Chris Nash, senior product manager, PCBA, and Dr. Ron Lasky, senior technologist,who, with the support of Indium Corporation's expert technical engineers, co-authored The Printed Circuit Assembler's Guide to…™ Solder Defects, an e-book published by I-Connect007. The book addresses six common defect topics and how to avoid them in order to help PCB assemblers improve their assembly processes and the reliability of the end-product, eliminate field failures, and reduce costs.
About Indium Corporation
Indium Corporation® is a premier materials refiner, smelter, manufacturer, and supplier to the global electronics, semiconductor, thin-film, and thermal management markets. Products include solders and fluxes; brazes; thermal interface materials; sputtering targets; indium, gallium, germanium, and tin metals and inorganic compounds; and NanoFoil®. Founded in 1934, the company has global technical support and factories located in China, Germany, India, Malaysia, Singapore, South Korea, the United Kingdom, and the U.S.
For more information about Indium Corporation, visit www.indium.com or email Jingya Huang. You can also follow our experts, From One Engineer To Another® (#FOETA), at www.linkedin.com/company/indium-corporation/ or @IndiumCorp.