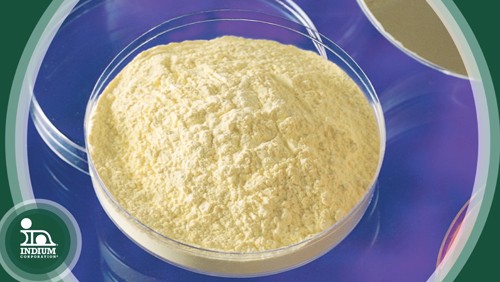 Indium Corporation Discusses the Abundance of Indium
November 10, 2016
As part of the Electronics Assembly with Phil Zarrow video series, Indium Corporation's Bill Jackson, Director and General Manager of Compounds, and SMT expert Phil Zarrow, President and Principal Consultant for ITM Consulting, discuss the applications of indium. The video also includes information on the element's abundance and the robust outlook of indium supplies. The video is available at www.indium.com/blog/phil-zarrow.
"The U.S. Geological Survey reports that indium is more abundant in the earth's crust than silver," Jackson explains.
To learn more about the abundance of indium, visit www.indium.com/indiumabundance. For more information on indium, high-purity indium, and indium alloys, visit www.indium.com/metals/indium.
Jackson is a veteran in the electronics industry and has worked for Indium Corporation for 35 years. Jackson has previously served as Director of Solar Products, Director of Corporate Quality, Director of Operations, and Managing Director for Indium's Singapore and UK facilities. He is a member of the American Management Association and a past member of the American Society of Metals and the Society of Manufacturing Engineers. Jackson has a bachelor's degree in Business and Public Management from the State University of New York's Institute of Technology.
Zarrow has been involved with PCB fabrication and assembly for more than 35 years. In addition to his background in automated assembly and cleaning, Zarrow is recognized for his expertise in surface mount reflow soldering technology, and in the design and implementation of SMT placement equipment and reflow soldering systems. His extensive hands-on experience also includes set-up and troubleshooting through-hole, and SMT processes throughout the world.
Indium Corporation is a premier materials manufacturer and supplier to the global electronics, semiconductor, thin-film, thermal management, and solar markets. Products include solders and fluxes; brazes; thermal interface materials; sputtering targets; indium, gallium, germanium, and tin metals and inorganic compounds; and NanoFoil®. Founded in 1934, Indium has global technical support and factories located in China, Malaysia, Singapore, South Korea, the United Kingdom, and the USA.
For more information about Indium Corporation, visit www.indium.com or email abrown@indium.com. You can also follow our experts, From One Engineer To Another® (#FOETA), at www.facebook.com/indium or @IndiumCorp.