Aaron Yan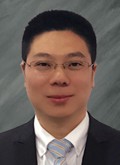 Area Technical Manager,
Semiconductor
Indium Corporation
Phone: +86 (0)512 62834900 x8328
Mobile: +86 1381 273 9985
E-mail: ayan@indium.com
Address: Suzhou, PRC
Biography
Aaron Yan is a Senior Technical Support Engineer based in Suzhou, China. He provides technical support for Indium's electronics assembly materials, semiconductor and advanced assembly materials, and engineered solders and thermal management materials. He uses his expertise to help customers optimize their manufacturing processes.
Aaron has a bachelor's degree in Industry and Commerce Administration from Suchow University in China. He has over ten years of experience in surface-mount technology and has been a technical support engineer with Indium Corporation since 2006.
From One Engineer to Another®
All of Indium Corporation's products and solutions are designed to be commercially available
unless specifically stated otherwise.
Indium Corporation uses cookies to provide you with the best possible experience on our website. By using our website, you agree to the placement of cookies on your device.
Read more about our use of cookies here.