HongWen Zhang, PhD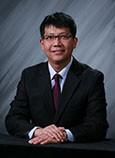 Research Metallurgist
Indium Corporation
Phone: +1 (315) 853-4900 x7416
E-mail: hzhang@indium.com
Address: 34 Robinson Rd., Clinton, NY USA 13323
Biography
Dr. HongWen Zhang is a Research Metallurgist in Indium Corporation's Research & Development Department. His focus is on the development of lead-free solder materials for high temperature and/or high fatigue resistance applications, and investigating the associated technologies. He and Dr. Ning-Cheng Lee invented the mixed powder solder technique in which minor additives are used to improve the wetting and modify the bonding interface, thus increasing the bonding strength. On the basis of this technique, BiAgX solder system was invented as an alternative high-temperature lead-free solder.
Dr. HongWen Zhang has a bachelor's degree in Metallurgical Physical Chemistry from Central South University of China, a master's degree in Materials Science and Engineering from the Institute of Metal Research, Chinese Academy of Science, a master's degree in Mechanical Engineering from Michigan Technological University, and a Ph.D. in Material Science and Engineering from Michigan Technological University. He has extensive experiences in various aluminum (Al) alloys and fiber/particle-reinforced Al-based composite materials, and Al-rich and ZrHf-based amorphous alloys. He has published 20 or so journal publications in the field of metallurgy, materials science and engineering, physics, and mechanics. He was also invited as a peer reviewer for numerous journals. Dr. HongWen Zhang has a Six-Sigma Green Belt from the Thayer School of Engineering at Dartmouth College. He is also a certified IPC Specialist for IPC-A-600 and IPC-A-610D.
HongWen Zhang, PhD's Technical Documents
From One Engineer to Another®
All of Indium Corporation's products and solutions are designed to be commercially available
unless specifically stated otherwise.
Indium Corporation uses cookies to provide you with the best possible experience on our website. By using our website, you agree to the placement of cookies on your device.
Read more about our use of cookies here.