Raymond Luo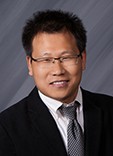 Area Tech Manager,
South China
Indium Corporation
Phone: +86 13808807380
E-mail: lluo@indium.com

Biography
Raymond Luo is a Sales Manager for South China. Based in Zhuhai, he is responsible for growing accounts in southern China, particularly in the fast-growing communications/infrastructure markets.
Raymond has over nine years of experience in surface-mount technology. He has a bachelor's degree in mechanical and electronics engineering from Guilin University of Electronics and Technology in Guilin, China.
From One Engineer to Another®
All of Indium Corporation's products and solutions are designed to be commercially available
unless specifically stated otherwise.
Indium Corporation uses cookies to provide you with the best possible experience on our website. By using our website, you agree to the placement of cookies on your device.
Read more about our use of cookies here.