Robert McKerrow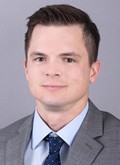 Product Specialist – Engineered Solders
Indium Corporation
Phone: +1 (315) 853-4900 x7558
Mobile: +1 (315) 240-6091
E-mail: rmckerrow@indium.com
Address: 34 Robinson Road, Clinton, NY 13323
Biography
Robert McKerrow is a Product Specialist for Engineered Solders, the company's most diverse product group. The group encompasses solder preforms, wire, ribbon, and foil, and thermal interface materials, including gold-tin and tin-lead solder preforms, Solder Fortification® preforms, Heat-Spring® thermal interface materials, and indium-containing preforms. Robert develops tools for improving customer response times and creates content about our products for customer use.
Robert has more than three years of experience in the manufacturing industry. He resides in Newport, N.Y. and earned a bachelor's degree in economics from Cortland University and a master's in technology management from SUNY Polytechnic University (SUNY Poly).
From One Engineer to Another®
All of Indium Corporation's products and solutions are designed to be commercially available
unless specifically stated otherwise.
Indium Corporation uses cookies to provide you with the best possible experience on our website. By using our website, you agree to the placement of cookies on your device.
Read more about our use of cookies here.