Scott Pringle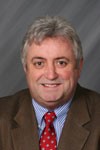 Director of Sales, Global Accounts
Indium Corporation
Mobile: +1 (909) 576-7234
E-mail: springle@indium.com

Biography
Scott Pringle is the Director of Sales for Indium Corporation's global accounts. He is responsible for the direct management and leadership of the global accounts team. Scott works with field and inside sales leaders to maintain and cultivate the company's results-oriented customer support strategy.
Scott joined Indium Corporation as a consultant in 2005 and was hired as Director of Sales in 2007. He has over 33 years of experience in the electronics market.
From One Engineer to Another®
All of Indium Corporation's products and solutions are designed to be commercially available
unless specifically stated otherwise.
Indium Corporation uses cookies to provide you with the best possible experience on our website. By using our website, you agree to the placement of cookies on your device.
Read more about our use of cookies here.