Sehar Samiappan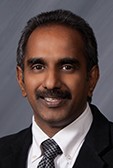 Regional Manager, Northern California, USA
Indium Corporation
Phone: +60 4587 1766
Mobile: +60 12 4839314
E-mail: ssamiappan@indium.com

Certifications:
SMTA
6 Sigma Green Belt
Biography
Sehar is an Regional Manager for Northern Califormia. He is responsible for providing Indium Corporation's customers with field technical support conducting online evaluations, product trainings, DOE, and troubleshooting.
Sehar is an electrical engineer with over 18 years of experience mainly in the area of Process, Failure Analysis, and Production. He is also an SMTA-certified Process Engineer and has earned his Six-Sigma Green Belt. Sehar practices Yoga and also likes gardening and reading.
From One Engineer to Another®
All of Indium Corporation's products and solutions are designed to be commercially available
unless specifically stated otherwise.
Indium Corporation uses cookies to provide you with the best possible experience on our website. By using our website, you agree to the placement of cookies on your device.
Read more about our use of cookies here.