Tim Hults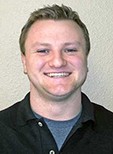 Global Accounts Manager
Indium Corporation
Phone: +1 (315) 853-4900 x2225
Mobile: +1 (315) 351-6621
E-mail: thults@indium.com

Biography
Tim is a Global Accounts Manager for Indium Corporation's global accounts. He is responsible for the management and development of multiple key global accounts, and he works closely with Indium Corporation's product managers, regional sales managers, and tech support engineers.
Tim joined Indium Corporation in 2014 as a Technical Support Engineer for Global Accounts. He has more than five years of experience in the electronics industry, including providing technical support and training to electronics manufacturers for solder paste and automated optical inspection equipment, as well as working as a manufacturing engineer for one of the largest SMT contract manufacturers in New York State. Hults earned his bachelor's degree in manufacturing engineering from the Rochester Institute of Technology (RIT). He is an SMTA-Certified process engineer. Tim lives is Oneida, N.Y. and enjoys kayaking and traveling.
From One Engineer to Another®
All of Indium Corporation's products and solutions are designed to be commercially available
unless specifically stated otherwise.
Indium Corporation uses cookies to provide you with the best possible experience on our website. By using our website, you agree to the placement of cookies on your device.
Read more about our use of cookies here.