Seth Homer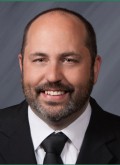 Product Manager Engineered Solders
Indium Corporation
Phone: +1 (315) 853-4900
E-mail: shomer@indium.com
Address: 34 Robinson Rd., Clinton, NY USA 13323
Blog
Biography
Seth is a Product Manager for Indium Corporation's Engineered Solder Materials. He has worked with Indium Corporation for over 20 years, serving in both manufacturing operations and marketing roles. While in operations, Seth was responsible for many of the products within the engineered solders product offering. In 2006, he transitioned to a marketing role as a liaison between customer support teams, globally. Over the years, Seth has been responsible for:
Thermal Interface Materials
Au and Au-containing alloys
Flux-coated preforms
Solder ribbon and wire
NanoFoil®
InFORMS®
Seth has also provided marketing support for specific industries, such as RF infrastructure and was heavily involved in the development of Indium's LV1000 flux coating, which was designed specifically for that industry.
Currently, Seth is working with the IGBT and power electronics industries, gaining insight by travelling to customer sites globally and working closely with manufacturing internally as he helps support current production demand and future product development.
Seth Homer's Blog Posts
At Indium Corporation, we're redefining how we use solder at the die-attach, DBC to baseplate, and baseplate to heat-sink levels so we can achieve a more reliable IGBT that can perform at increasingly higher standards. If you missed the first three videos in this series, get caught up at indium.com/IGBT.
From One Engineer to Another®
All of Indium Corporation's products and solutions are designed to be commercially available
unless specifically stated otherwise.
Indium Corporation uses cookies to provide you with the best possible experience on our website. By using our website, you agree to the placement of cookies on your device.
Read more about our use of cookies here.