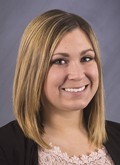 Technical Support Engineer
Indium Corporation
Phone: +1 (315) 853-4900 x7599
Mobile: Array
E-mail: kflanagan@indium.com
Address: 34 Robinson Rd, Clinton, NY USA 13323
Blog
Biography
Kim Flanagan is a Technical Support Engineer based at the Indium Corporation's headquarters in Clinton. NY, USA.
Kim provides technical support, including guidance and recommendations to customers related to process steps, equipment, techniques, and materials. In addition, she delivers technical training to staff and industry partners.
Kim was introduced to Indium Corporation through the company's summer college internship program, where she gained experience working with the Quality Department. She remained with Indium Corporation as a part-time Quality Engineering Technician while she finished her bachelor's degree in Physics from Le Moyne College in December 2016.