Related Flux and Epoxy Technical Documents
Storage and Handling of Specialty Fluxes (US Letter)
Related Flux and Epoxy Videos
Related Flux and Epoxy Blog Articles
SIR Testing-Surface and Insulation Resistance testing, a form of standard testing where you measure the electrical reliability of a no-clean or a water-soluble flux residue, has existed for a while now.
Read More
Flux Products Features & Benefits
Indium Corporation manufactures a variety of high-quality, proven flux products, ranging from wave flux to semiconductor fluxes such as flip-chip flux. Our flux products are formulated for superior performance to serve virtually any application where flux is required. We are the industry leader of no-clean semiconductor flux and were the first in the market introducing a true no-clean flip-chip flux which has been adopted by major OSATs. These formulas enable the next generations of packaging development where the packaging is getting smaller, thinner, and more powerful.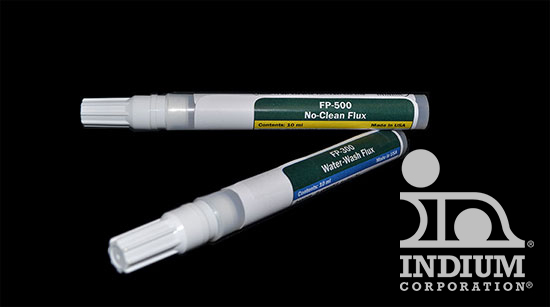 Flux Pens
Indium Corporation's flux pens utilize a spring-loaded applicator tip to deliver a controlled amount of flux to the work surface. The user friendly pin-point applicator is ideal for touch-up and light assembly work. To apply, simply depress the tip of the flux pen against the work area to start the flow of the applicator tip.
Indium Corporation flux pens come in Pb-free and SnPb, no-clean and water wash.
Semiconductor Fluxes
Our materials enable the manufacture of strong, reliable products that endure the inevitable physical shocks and thermal stresses associated with electronics devices in applications from the Internet of Things (IoT) mobile devices to next-generation - low-energy servers – to automobile electronics.
Indium Corporation provides fluxes for:
Ball-attach
Flip-chip
Package-on-package and fine-pitch component attach
TCB and Cu-Pillar
Wafer-bumping
Soldering & Industrial Flux
Indium Corporation manufactures a broad range of fluxes for soldering and industrial use. These include:
Industrial Flux
Liquid Soldering Fluxes
Liquid Tabbing Flux
Package On Package Flux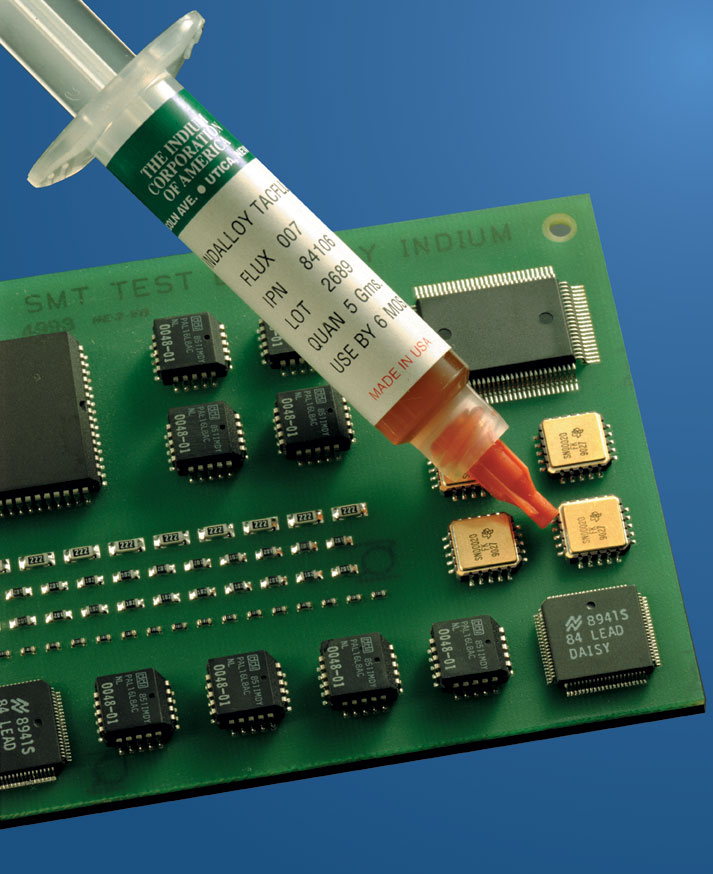 TACFlux®
Indium Corporation manufactures a complete line of TACFlux® which includes no-clean, water-wash, and RMA-based fluxes. Its many uses include: rework and repair of various electronics assemblies and components, SMT component attach (including BGAs and flip-chips), BGA ball-attach, preform soldering, and virtually any application where a flux is required. Cycle times are not critical as TACFlux® may sit for hours with no reflow degradation.
TACFlux® 020B-RC is the newest addition to our popular TACFlux® product line. TACFlux® 020B-RC is a no-clean flux formulated for both SnPb and Pb-free soldering. It is halogen-free and passes SIR in the unreflowed state, which is ideal for rework applications where the flux may not be heated properly.
Wave Flux
Indium Corporation offers a full line of competitive, state-of-the-art wave solder fluxes for electronics assembly. We are the first company to introduce halogen-free, Pb-free wave fluxes that perform as well as the more established halogen-containing tin-lead wave fluxes.
All wave solder fluxes are available in 55-gallon (200 liter), 5-gallon, and 1-gallon containers.
Wave fluxes include:
Alcohol-based
VOC-free
Water-wash
Rosin-based
Epoxy Flux
Epoxy fluxes are often used in no-clean SMT component attach applications. The solder bumps on wafer level CSP, micro BGA or BGA packages are dipped in epoxy fluxes, or the flux is applied to the substrate via a jetting process. The assembly is then reflowed, and the epoxy flux acts to both clean up the solder joints before reflow, and to reinforce the final joint from the cured polymer.
Package-on-Package Flux
Package-on-Package (PoP) assembly is most commonly carried out by printing solder paste onto the substrate and placing the logic chip into the paste. The memory package is then either dipped into a specially-designed PoP flux or PoP solder paste, then and placed on top of the logic chip. The whole assembly is then reflowed. No-clean processes are used. PoP flux is typically preferred over PoP solder paste as it is easier to set-up and control the process. PoP solder paste is primarily used when there is component warpage and the solder paste bridges the gap cause by warping boards or substrates. Colored versions of PoP flux are available – upon request – for help with automated inspection of the flux or even visual inspection for process optimization. The colored versions will aid in ensuring there is PoP flux present on the dipped components.
Click here to learn more about our Package-on-Package Paste options.
Indium Corporation's most popular PoP fluxes include: