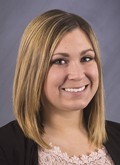 Technical Support Engineer
Indium Corporation
Phone: +1 (315) 741-2707
E-mail: kflanagan@indium.com
Address: 34 Robinson Rd, Clinton, NY USA 13323
Blog
Biography
Kim Flanagan is a Technical Support Engineer based at Indium Corporation's global headquarters in Clinton, NY, USA.
She is part of a team of experienced engineers that provides leading-edge technical support, guidance, and recommendations to customers and potential customers related to process steps, equipment, techniques, and materials.
Kim regularly shares her experience and expertise through technical trainings to customers, industry partners, and co-workers. She has spoken on numerous electronics assembly topics, including:
DPAK Voiding
Voiding in Bottom-Terminated Components
Cleaning No-Clean Solder Paste Flux Residue
Properties of Various Solder Alloys
Low-Temperature Solders
In addition to her work in the field, Kim also participates on technical projects involving product research and process optimization in Indium Corporation's Process Development Lab. Her work includes:
New Solder Paste Product Characterizations
SIR Compatibility Testing
The Effect of Various Reflow Profiles on Low-Temperature Solder Alloy Intermetallic Formation
Solder Preform-In-Paste
Solder Preform Voiding
Kim works closely with many of our industry partners to investigate new manufacturing processes that benefit her customers. Most recently, she teamed with KIC to conduct a Voiding Clinic at IPC APEX. Her work received significant attention from customers and media.
Kim is a Certified SMT Process Engineer as well as a blog author and author/presenter of technical papers to international audiences. Her papers include:
DPAK Voiding: A Study to Determine the Origins of DPAK Voiding (APEX 2019)
Reflow Profiling for Next-Generation Solder Alloys (SMTAI 2018)
Kim earned her bachelor's degree in physics from LeMoyne College and is pursuing her MMSE in Materials Science from (University of Virginia.)