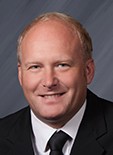 Technical Manager
Indium Corporation
Phone: +60 19 264 7618
E-mail: jsjoberg@indium.com

Biography
Jonas is a Technical Manager for Indium Corporation based in Kuala Lumpur, Malaysia where he provides technical support to key regional and global customers.
He has more than 20 years of technical experience in the electronics industry, including development & deployment of leading-edge designs and processes for packaging & assembly, managing research & development projects and facilities, and serving as technical advisor to internal & external design, development, and manufacturing sites worldwide.
He has presented and published numerous papers at industry leading electronic conferences/magazines and is an appointed distinguished speaker at SMTAI.