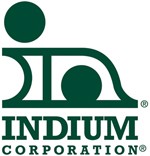 Indium Corporation Accepting Summer Internship Program Applications for 10 Open Positions
March 23, 2016
Indium Corporation, Utica's Technology Company®, is now accepting applications for the company's college Internship Program.
The following paid, full-time positions are open for application submissions from now through April 11. The program runs from June 1-Aug.10:
Thermal Form Packaging Design Intern
Engineered Solders Intern
Marketing Communications Intern
Desktop Administrator Intern
Research and Development Intern
Production Liaison Intern
Technical Support Laboratory Intern
Preventative Maintenance Intern
Production Engineering Intern
Quality Engineering Intern
"This isn't the kind of program where the students are expected to get coffee and perform menial tasks," said Jim McCoy, Talent Acquisition Coordinator. "Our interns are expected to perform as valuable members of our internal teams."
"Indium Corporation's internship program is highly competitive because it offers a unique experience." said Dawn Roller, Director - HQ Services. "The talented students that we hire leave the program with valuable insights into the technology industry, real-world experience to build their resumés, and even a professional project for their portfolio."
Interested applicants should visit www.indium.com/jobs. Applications will not be accepted after April 11.
Indium Corporation is a premier materials manufacturer and supplier to the global electronics, semiconductor, thin-film, thermal management, and solar markets. Products include solders and fluxes; brazes; thermal interface materials; sputtering targets; indium, gallium, germanium, and tin metals and inorganic compounds; and NanoFoil®. Founded in 1934, Indium has global technical support and factories located in China, Malaysia, Singapore, South Korea, the United Kingdom, and the USA.
For more information about Indium Corporation, visit www.indium.com or email abrown@indium.com. You can also follow our experts, From One Engineer To Another® (#FOETA), at www.facebook.com/indium or @IndiumCorp.