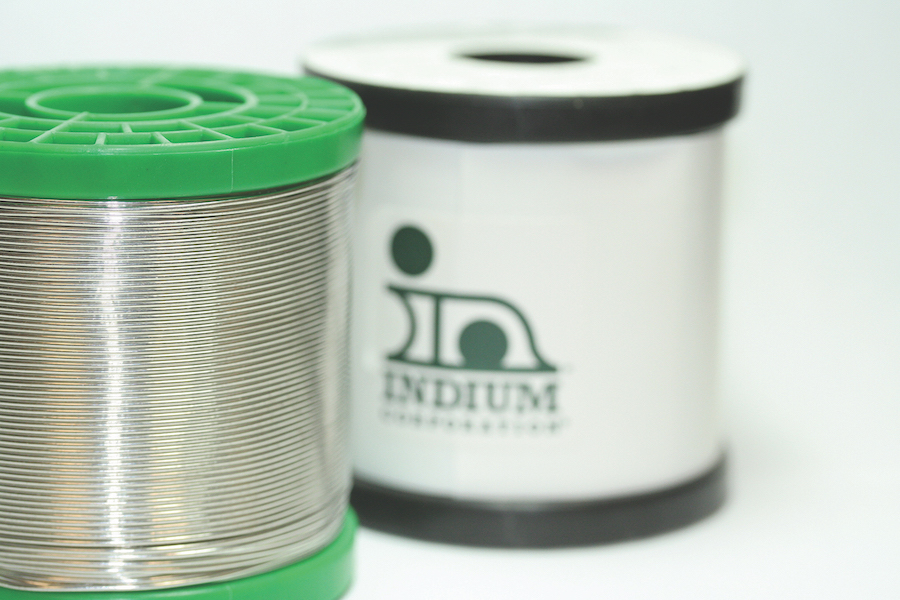 Indium Corporation Expands Fine Wire Capabilities
January 25, 2022
Indium Corporation has expanded its manufacturing capabilities to include a fine diameter 0.004" (0.10mm) flux-cored wire made with select Pb-free alloys to help customers meet the progressively demanding requirements of fine-pitch applications.
This new offering is designed to provide a fine wire solution to customers dealing with increased solder joint density and miniaturization in applications where solder paste reflow and other soldering approaches are not effective, such as robotic soldering for fine-pitch attachment of small components to medical devices or fine-pitch PCB assemblies. Hand soldering and rework with this new fine diameter wire may be possible for very skilled operators.
Fluxes recommended for this new fine diameter are Indium Corporation's Core 230-RC, an award-winning low spatter wire that exhibits excellent performance in robotic soldering applications, and CW-807, a flux-cored wire formulated for general purpose electronics soldering with a clear residue.
The fine diameter wire is available in the following alloys*:
SAC305
SAC387
Sn96.5Ag3.5
Sn96.3Ag3.7
Sn96Ag4
*Other Pb-free alloy options can be discussed.
For more information, visit www.indium.com/flux-cored-wire or contact Robert McKerrow, Senior Product Specialist – Flux-Cored Wire, Wave Solder Flux, and Bar Solder, here.
About Indium Corporation
Indium Corporation is a premier materials refiner, smelter, manufacturer, and supplier to the global electronics, semiconductor, thin-film, and thermal management markets. Products include solders and fluxes; brazes; thermal interface materials; sputtering targets; indium, gallium, germanium, and tin metals and inorganic compounds; and NanoFoil®. Founded in 1934, the company has global technical support and factories located in China, Germany, India, Malaysia, Singapore, South Korea, the United Kingdom, and the U.S.
For more information about Indium Corporation, visit www.indium.com or email Jingya Huang. You can also follow our experts, From One Engineer To Another® (#FOETA), at www.linkedin.com/company/indium-corporation/ or @IndiumCorp.