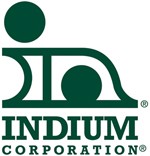 Indium Corporation Expert to Present at IMAPS Advanced Technology Workshop on Thermal Management
October 4, 2016
Indium Corporation's Ron Hunadi, Market Development Manager, Semiconductor and Advanced Materials, will share his knowledge and expertise at IMAPS Advanced Technology Workshop and Tabletop Exhibition on Thermal Management, Oct. 25-27, in Los Gatos, Calif.
Hunadi's presentation, Specialized Metallic TIMs for Non-Flat Surfaces and Burn-in/Test Applications, discusses the development of improved thermal interface materials (TIMs) that are cost-effective for both TIM2 and burn-in test applications.
Hunadi's presentation includes a review of thermal and performance data on HSMF and HSMF-OS. HSMF is a unique multilayer TIM that accommodates surface warpage over large areas, facilitates effective heat removal, and minimizes hot spots. HSMF-OS is a 4-mil thick composition that contains an aluminum layer and a unique non-silicone thermal compound.
Hunadi has more than 20 years of experience in business development and microelectronics. He is responsible for developing new business opportunities and works closely with Indium Corporation's field sales and technical teams in Asia and the USA.
Indium Corporation is a premier materials manufacturer and supplier to the global electronics, semiconductor, thin-film, thermal management, and solar markets. Products include solders and fluxes; brazes; thermal interface materials; sputtering targets; indium, gallium, germanium, and tin metals and inorganic compounds; and NanoFoil®. Founded in 1934, Indium has global technical support and factories located in China, Malaysia, Singapore, South Korea, the United Kingdom, and the USA.
For more information about Indium Corporation, visit www.indium.com or email abrown@indium.com. You can also follow our experts, From One Engineer To Another® (#FOETA), at www.facebook.com/indium or @IndiumCorp.