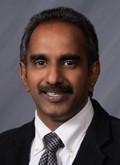 Indium Corporation Expert to Present at Northern California Reliability Workshop
May 26, 2016
Indium Corporation's Sehar Samiappan, Regional Manager for Northern California, will present Voiding and Undried Flux Control with Bottom-Terminated Components at the Northern California Reliability Workshop on June 9 in Milpitas, Calif.
This presentation will detail how the use of solder preforms as venting channels for flux vaporization on bottom-terminated components can prevent wet flux conditions and significantly reduce voiding.
Samiappan is responsible for coordinating all sales and technical activities for Indium Corporation's full product line, including solder paste, solder preforms, fluxes, thermal interface materials, and die-attach materials throughout northern California.
Samiappan joined Indium Corporation in 2001 and has served in a variety of positions, including providing field technical support, product training and troubleshooting, and assisting with customer evaluations and DOEs. He has more than 18 years of experience. Samiappan is an SMTA-certified process engineer and has earned his Six Sigma Green Belt.
Indium Corporation is a premier materials manufacturer and supplier to the global electronics, semiconductor, solar, thin-film, and thermal management markets. Products include solders and fluxes; brazes; thermal interface materials; sputtering targets; indium, gallium, germanium, and tin metals and inorganic compounds; and NanoFoil®. Founded in 1934, Indium has global technical support and factories located in China, Malaysia, Singapore, South Korea, the United Kingdom, and the USA.
For more information about Indium Corporation, visit www.indium.com or email abrown@indium.com. You can also follow our experts, From One Engineer To Another® (#FOETA), at www.facebook.com/indium or @IndiumCorp.