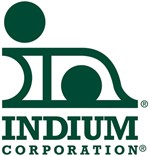 Indium Corporation Experts to Present at IMAPS 2016
September 28, 2016
Several Indium Corporation experts will share their knowledge and expertise at IMAPS 49th International Symposium on Microelectronics (IMAPS 2016 - Packaging the Connected World), Oct. 10-13, in Pasadena, Calif.
The following technical papers authored by Indium Corporation experts will be featured:
Voiding Control in Preform Soldering by Dr. Ning-Cheng Lee, Vice President of Technology
Avoid the Void® by Edward Briggs, Senior Technical Support Engineer
Evaluating the Effect of SMT Material & Process Variables on Voiding Under QFNs by Maria Durham, Technical Support Engineer, Semiconductor and Advanced Assembly Materials; and Brandon Judd, Technical Support Engineer, Southwest/Rocky Mountains U.S.
Metallic TIM Testing and Selection for IC, Power, and RF Semiconductors by Tim Jensen, Product Manager for Engineered Solders Materials; and David Saums of DS&A LLC
Challenges in Fine-Feature Solder Paste Printing for SiP Application by Sze Pei Lim, Semiconductor Product Manager – Southeast Asia; and Kenneth Thum, Senior Technical Support Engineer
Additionally, Dr. Ning-Cheng Lee is teaching two professional development courses:
Achieving High Reliability Lead-Free Solder Joints – Materials Consideration
It is Time for Low Temperature – Low Temperature Solders, New Developments, and Their Applications
To register for the IMAPS conference, visit: www.imaps.org/imaps2016/.
Indium Corporation is a premier materials manufacturer and supplier to the global electronics, semiconductor, thin-film, thermal management, and solar markets. Products include solders and fluxes; brazes; thermal interface materials; sputtering targets; indium, gallium, germanium, and tin metals and inorganic compounds; and NanoFoil®. Founded in 1934, Indium has global technical support and factories located in China, Malaysia, Singapore, South Korea, the United Kingdom, and the USA.
For more information about Indium Corporation, visit www.indium.com or email abrown@indium.com. You can also follow our experts, From One Engineer To Another® (#FOETA), at www.facebook.com/indium or @IndiumCorp.