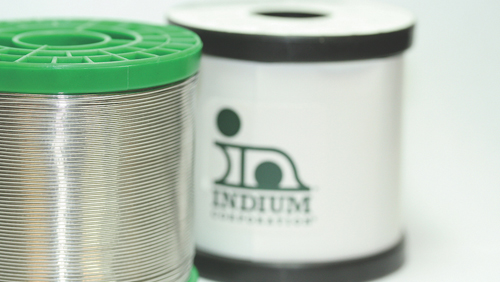 Indium Corporation Introduces New Fast-Wetting, No-Clean Flux-Cored Wire for Robotic and Manual Soldering
August 17, 2022
Indium Corporation® announces that it is now offering CW-818, a uniquely formulated no-clean, high-reliability flux-cored wire designed to minimize cycle times in manual and robotic soldering processes while delivering top tier soldering speed and spread.
Designed to meet the requirements of manual and robotic soldering processes, Indium Corporation's halide-free CW-818 combines superior soldering speed and spread with improved overall cleanliness (with clear/light-colored residue, charring resistance, and spatter control technology) to deliver a flux-cored wire with enhanced cleanliness, even at higher soldering iron tip temperatures.
CW-818 excels in manual and robotic soldering applications where the J-STD-004C high-reliability category is desired or required; or applications where extra wetting power is needed to achieve a higher throughput.
Indium Corporation's CW-818 is also:
Compatible with Pb-free and SnPb alloys
Compatible with HASL, Immersion Silver, ENIG, and OSP surface finishes
A good choice for legacy processes requiring an RMA-strength product.
For more information, visit www.indium.com/flux-cored-wire or contact Robert McKerrow, Senior Product Specialist – Flux-Cored Wire, Wave Solder Flux, and Bar Solder, here.
About Indium Corporation
Indium Corporation is a premier materials refiner, smelter, manufacturer, and supplier to the global electronics, semiconductor, thin-film, and thermal management markets. Products include solders and fluxes; brazes; thermal interface materials; sputtering targets; indium, gallium, germanium, and tin metals and inorganic compounds; and NanoFoil®. Founded in 1934, the company has global technical support and factories located in China, India, Malaysia, Singapore, South Korea, the United Kingdom, and the USA.
For more information about Indium Corporation, visit www.indium.com or email Jingya Huang. You can also follow our experts, From One Engineer To Another® (#FOETA), at www.linkedin.com/company/indium-corporation/ or @IndiumCorp.