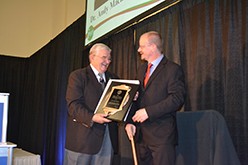 Indium Corporation's Mackie Honored by IMAPS
October 15, 2014
Indium Corporation's Andy C. Mackie, PhD, MSc, senior product manager for semiconductor and advanced assembly materials, was presented with the 2014 William D. Ashman Award at the 47th International Symposium on Microelectronics on Oct. 14 in San Diego, Calif.
The William D. Ashman Award recognizes an individual who has provided significant technical contributions to the electronics packaging industry, while participating and demonstrating support of activities that enhance the electronics packaging profession.
Dr. Mackie is the president of the IMAPS Empire Chapter and chairman of the editorial advisory board for Chip Scale Review Magazine. In 2014, his articles appeared in Semiconductor Packaging News, EP&P (Europe) and Chip Scale Review. Dr. Mackie has also served as a presenter and chair for IMAPS workshops.
"Dr. Mackie's demonstrated commitment and fervor for advancing the microelectronics industry and electronics packaging technologies distinguishes him as a true leader," said Voya Markovich, first past president and chairman of the IMAPS Awards committee. "We are honored to be able to recognize him with this award."
Dr. Mackie is an electronics industry expert in physical chemistry, surface chemistry, rheology, and semiconductor assembly materials and processes. He has more than 20 years of experience in new product and process development, and materials marketing in all areas of electronics manufacturing, from wafer fabrication to semiconductor packaging and electronics assembly. Dr. Mackie has a doctorate in physical chemistry from the University of Nottingham, U.K., and a Master of Science (MSc) in colloid and interface science from the University of Bristol, U.K. Additionally, he is formally trained in Six Sigma – Design of Experiments.
IMAPS is the largest society dedicated to the advancement and growth of microelectronics and electronics packaging technologies through professional education. The Society's portfolio of technologies is disseminated through symposia, conferences, workshops, professional development courses, and other efforts. IMAPS currently has more than 3,000 members in the United States and more than 3,000 international members around the world.
Indium Corporation is a premier materials manufacturer and supplier to the global electronics, semiconductor, solar, thin-film, and thermal management markets. Products include solders and fluxes; brazes; thermal interface materials; sputtering targets; indium, gallium, germanium, and tin metals and inorganic compounds; and NanoFoil®. Founded in 1934, Indium has global technical support and factories located in China, Malaysia, Singapore, South Korea, the United Kingdom, and the USA.
For more information about Indium Corporation, visit www.indium.com or email abrown@indium.com.