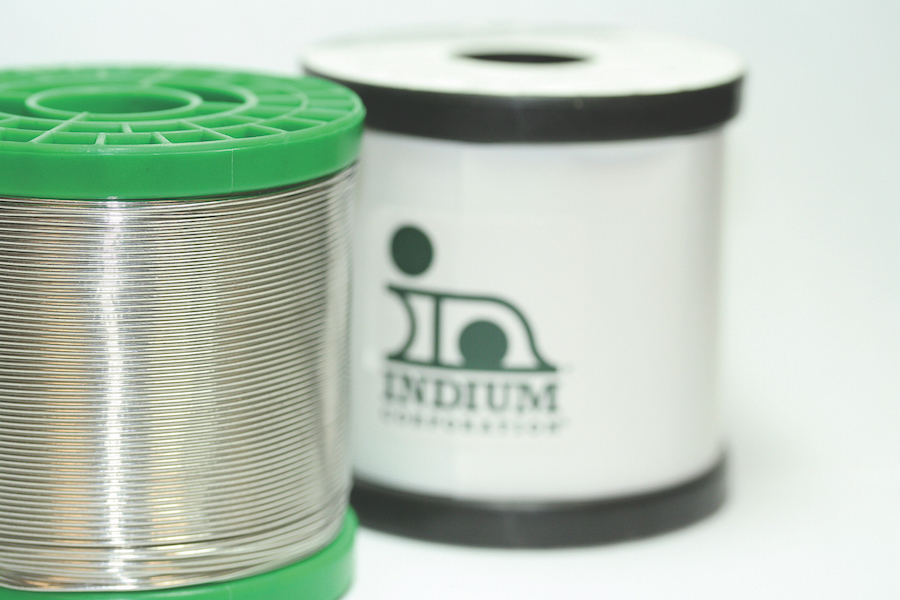 Indium Corporation to Feature New Flux-Cored Wire at IPC APEX Expo
February 23, 2021
Indium Corporation will feature its uniquely formulated flux-cored wire during the virtual IPC APEX Expo, to be held March 8-12.
Indium Corporation's CW-232 is a highly activated rosin flux-cored wire developed to meet the demanding requirements of robotic and laser solder applications. It delivers additional wetting power that provides for higher throughput as well as exceptional post-soldering cleanliness. Due to its "no-spatter" technology, CW-232 eliminates flux spattering that can make finished products less aesthetically appealing, impair the vision system of the robotic soldering machines, or burn operators' hands. CW-232 also works exceptionally well in hand soldering applications.
Indium Corporation's CW-232 offers:
Very fast wetting, even capable of soldering to heavily tarnished surfaces
Extremely low-spatter performance
Light-colored residue
Compatibility with Pb-free and SnPb alloys
Compatibility with HASL, Immersion Silver, ENIG, and OSP surface finishes
For more information about Indium Corporation's flux-cored wire offerings, visit its virtual show booth or www.indium.com/flux-cored-wire.
About Indium Corporation
Indium Corporation is a premier materials refiner, smelter, manufacturer, and supplier to the global electronics, semiconductor, thin-film, and thermal management markets. Products include solders and fluxes; brazes; thermal interface materials; sputtering targets; indium, gallium, germanium, and tin metals and inorganic compounds; and NanoFoil®. Founded in 1934, the company has global technical support and factories located in China, India, Malaysia, Singapore, South Korea, the United Kingdom, and the U.S.
For more information about Indium Corporation, visit www.indium.com or email jhuang@indium.com. You can also follow our experts, From One Engineer To Another® (#FOETA), at www.facebook.com/indium or @IndiumCorp.
About IPC APEX EXPO 2021
IPC APEX EXPO is one of the premier events for the electronics manufacturing industry, providing a virtual platform for attendees, exhibitors, and speakers to easily navigate more than 100 technical conference sessions and professional development courses as well as product demonstrations. New this year, technical conference sessions will be available to registered attendees for replay, providing a unique opportunity to take advantage of education for up to 90 days after the event. Learn more at www.ipcapexexpo.org.