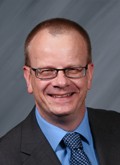 Indium Corporation's Andy Mackie Named to IMAPS Global Business Council Steering Committee
June 2, 2016
Indium Corporation's Andy C. Mackie, PhD, MSc, Senior Product Manager for Semiconductor and Advanced Assembly Materials, has been named to the International Microelectronics Assembly and Packaging Society (IMAPS) Global Business Council Steering Committee.
The Global Business Council Steering Committee consists of diverse and dynamic business leaders who share expertise in microelectronics and packaging technologies. The committee focuses on the development and presentation of events, such as technical conferences, forums, and webinars, highlighting significant technological topics.
Dr. Mackie is an electronics industry expert in physical chemistry, surface chemistry, rheology, and semiconductor assembly materials and processes. He has more than 20 years of experience in new product and process development, and materials marketing in all areas of electronics manufacturing, from wafer fabrication to semiconductor packaging and electronics assembly. Dr. Mackie has a doctorate in physical chemistry from the University of Nottingham, U.K., and a Master of Science in Colloid and Interface Science from the University of Bristol, U.K. Additionally, he is formally trained in Six Sigma – Design of Experiments.
Indium Corporation is a premier materials manufacturer and supplier to the global electronics, semiconductor, thin-film, thermal management, and solar markets. Products include solders and fluxes; brazes; thermal interface materials; sputtering targets; indium, gallium, germanium, and tin metals and inorganic compounds; and NanoFoil®. Founded in 1934, Indium has global technical support and factories located in China, Malaysia, Singapore, South Korea, the United Kingdom, and the USA.
For more information about Indium Corporation, visit www.indium.com or email abrown@indium.com. You can also follow our experts, From One Engineer To Another® (#FOETA), at www.facebook.com/indium or @IndiumCorp.