Related Braze Alloys Technical Papers
Related Braze Alloys Blog Articles
When looking at the reliability of AuSn solder paste, you need to take a couple of things into consideration, the post reflow alloy composition (off-eutectic) and the correct flux for the application are two of these.
Read More
Features & Benefits
Gold materials deliver:
Highest tensile strength of any solder
High melting point is compatible with subsequent reflow processes
Pb-free and RoHS compliant
Superior thermal conductivity
Resistance to corrosion
Superior thermal fatigue resistance
Good joint strength
Excellent wetting properties
Resistance to oxidation
When to Choose Gold Products
Factors to consider:
Higher yields and cost per unit make gold a viable option, even though the initial cost is higher than alternative solders
A low oxygen atmosphere may be required if the application is flux free
Some applications require pressure to promote good, void-free reflow on horizontal surfaces.
Processing Options
Vacuum Soldering: flux-less and void-free soldering
Die-Attach: high process temperature
Reflow: convection, infrared, and induction
Laser Soldering: targeted soldering
Vapor Phase Reflow: uniform heating
Manual Soldering: solder iron, hot plate, ultra sonic, and dipping
Thickness from 0.0127mm (0.00035") and greater
Tight dimensional tolerances ensure repeatable solder volume
Flatness measurement capabilities to 0.00254mm (0.0001")
Large die library with in-house tooling capabilities
Tiny solid shapes from 0.152mm (0.006")
High aspect ratio and complex special shapes
Gold Wire
Diameter starting at 0.025mm ± 0.0127mm (0.001" ± 0.0005")
Tight dimensional tolerances
Packaging designed to minimize breakage of wire in soldering process
Maximum of 80% Au
New technology for brazing hermetic packages
Cost-efficient alternative to cut wire and frames
Doesn't shift during movement and reflow
Increases yields and lowers cost of ownership
No-clean and water-soluble
Type 3-7 AuSn powder
Gold Spheres
Sizes starting at 0.254mm (0.005")
Tight dimensional tolerances down to +/- 5 microns
Benefits of High-Temperature Alloys
Attributes
Alloys
Temperature
Gold-Based Alloys
Strong bond strength, excellent corrosion and oxidation resistance, and good thermal and electrial transfer at the braze joint.
Indalloy®182 (80Au/20Sn)
Indalloy®183 (88Au/12Ge)
Indalloy®178 (82Au/18In)
Indalloy®195 (80Au/20Cu)
Braze Indalloy®B955 (50Au/50Cu)
Braze Indalloy®B9902 (65Cu/35Au)
Indalloy®200 (100Au)
96.8Au3.2Si used for die-attach
Indalloy®270 (75Au/25Sn)
Indalloy®269 (78Au/22Sn)
Indalloy®271 (79Au/21Sn)
280°C Eutectic
356°C Eutectic
Solidus 451°C / Liquidus 485°C
891°C Eutectic
Solidus 955°C / Liquidus 970°C
Solidus 990°C / Liquidus 1010°C
1064°C Eutectic
363°C Eutectic
Solidus 278°C / Liquidus 332°C
Solidus 278°C / Liquidus 301°C
Solidus 278°C / Liquidus 289°C

Silver-Based Alloys
High thermal and electrical conductivity, capillaries very well into joints, and holds up well in applications with lots of stress and with CTE mismatches.
Braze Indalloy®B625 (61.5Ag / 24Cu / 14.5In)
Braze Indalloy®B6851 (63Ag / 27Cu / 10In)
Indalloy®193 (72Ag / 28Cu)
Braze Indalloy®B962 (99.99Ag)
Solidus 625°C / Liquidus 705°C
Solidus 685°C / Liquidus 730°C
780°C Eutectic
962°C Eutectic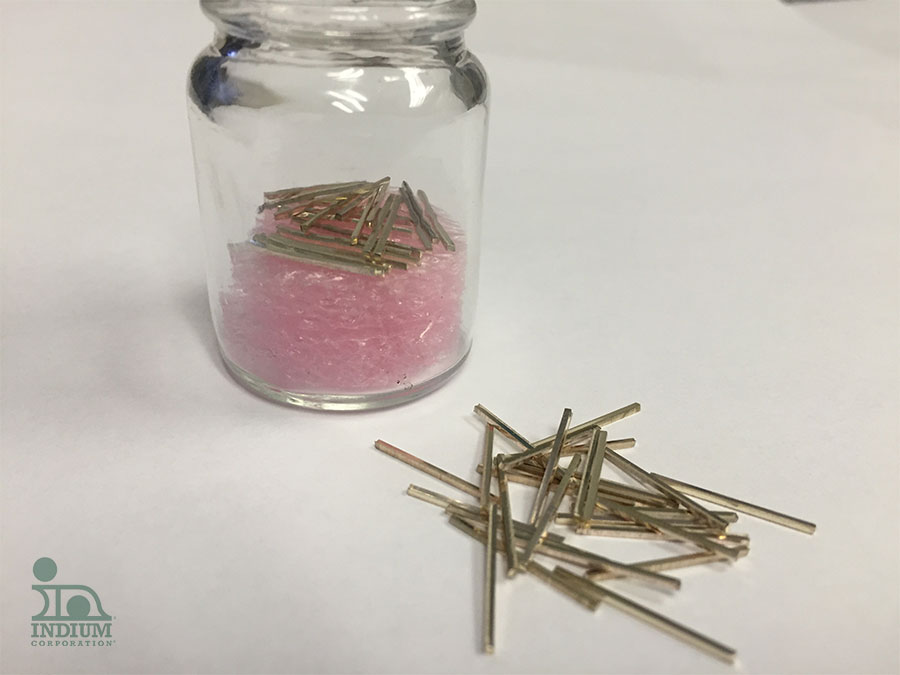 Capillary Blocks®
Increase Yields, Quality in Hermetic Package Manufacturing with New Capillary Blocks® Technology
Indium Corporation's new capillary blocks® technology delivers a simple, cost-efficient alternative to the current process of using cut wire or frame preforms in hermetic package manufacturing.
Used for brazing the hermetic package frame to the base, cut wire shifts during movement and reflow, resulting in quality issues. While a more stable option, frame preforms can be costly and have long lead times when tooling setups are required.
Capillary blocks® are designed with a patented square shape that keeps the material in place during movement and reflow. As a result, capillary blocks® increase yields and lower cost of ownership for hermetic package manufacturing.
Features:
Patented design offers a stable alternative to cut wire for a higher-quality solder joint
Reduced lead time as compared to frame preforms
Unique shape enables a tight joint connection to aid in the capillary action
.030" wide x .030" height (length is determined by the amount of braze needed for the joint)
Available alloys include:

72Ag/28Cu
72Ag/28Cu VTG
99.9Ag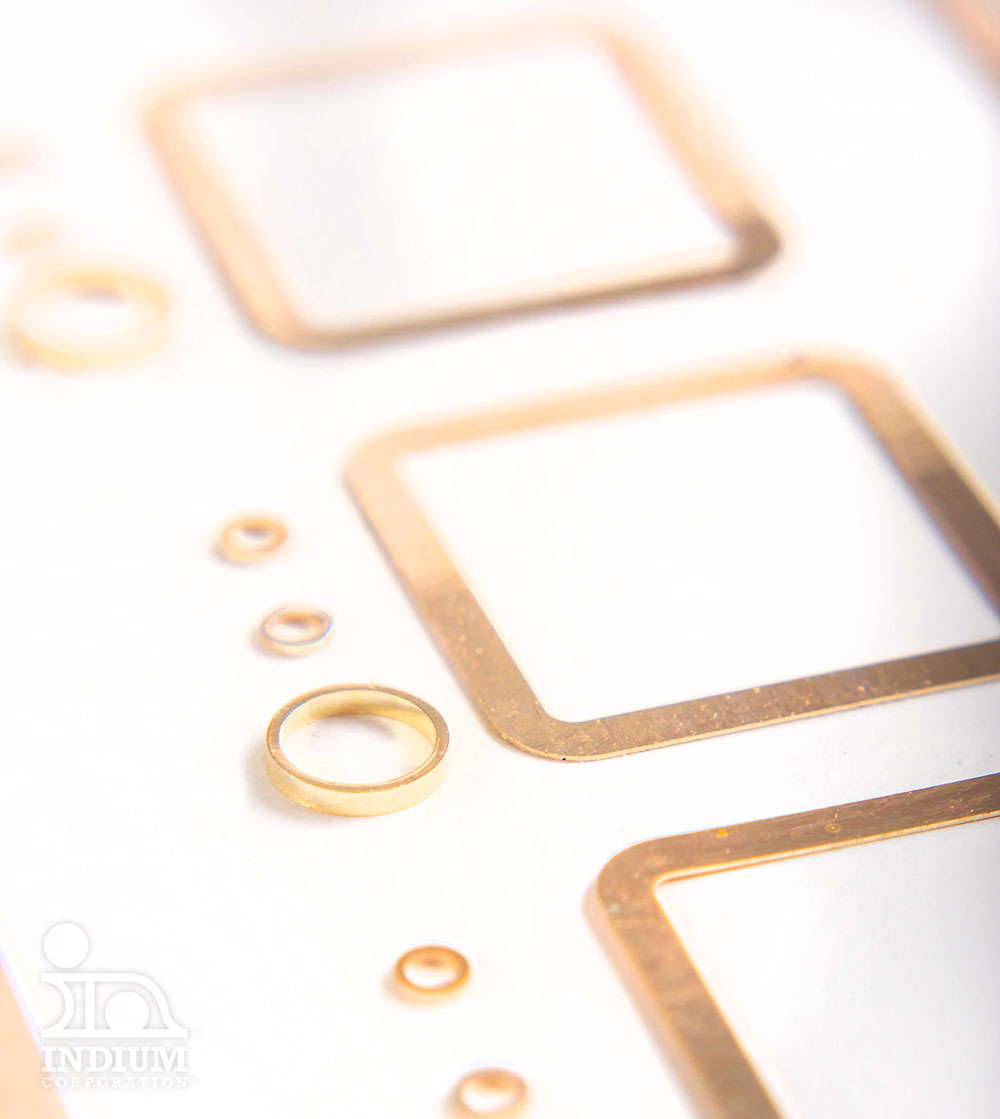 Gold Preforms
Indium Corporation provides high-performance precision gold preforms. Indium Corporation's manufacturing Engineers have developed advancedgold and braze preform manufacturing technology to produce "best in class" precision preforms. These high-quality preforms redefine the boundaries of what's capable in regard to complex designs and aggressive aspect ratios. Eutectic and off-eutectic options available in preforms and ribbon.