Related e-Mobility Videos
Related e-Mobility Blog Articles
Solder paste is enabling the complex electronic systems of next generation of vehicles - from power inverters and battery management to infotainment
Read More
Over three million electric vehicles are on the street with Indium Corporation's Rel-ion™ suite of products. Our proven products deliver reliability with no Zero km failures to modules, components, and systems such as:
ADAS
Autopilot
Battery Cells
Battery Management Systems
DC-DC Converters
DC Fast Charging (DCFC)
Energy Storage
IGBT
Infotainment
Inverters
On-Board Battery Chargers
Power MOSFET
Telematics (TCU)
Dendrites and Corrosion – Meets stricter SIR with rework solutions to pass SIR unheated
Electrical Continuity – Eliminates non-wet opens and head-in-pillow defects
Leakage Current – Contains low Alpha particle solution for >650-volt GaN dies
Solder Delamination – Provides precision bondline control, increased creep resistance, and increased fatigue resistance
Longer Mission Profiles – Shows increased operating temperatures and longer thermal and power cycles
Hot Spots – Reduces voiding, increases CPU/GPU thermal requirements, and provides materials for power modules, IGBT, and DSC modules
Indium Corporation:
Offers global technical field support throughout your supply chain
Meets IATF (PPAP), HKMC MS184-1, and AQC 324 requirements
Click here to find out more about Indium Corporation's comprehensive suite of proven, high-reliability materials for automotive electronics manufacturing.
Solutions for

e-Mobility
Suite of Indium Corporation fluxes and semiconductor-grade solder pastes that improve yields and have material compatibility for SoC, GPUs/CPUs, SiP, DDR, AI accelerators, and more
Bondline control between substrate and baseplate for IGBT and MOSFET applications
Improved thermal cycling (3X improvement in reliability)
DBC to baseplate attach with low voiding and high TCE
Drop-in processing solution
Suite of Indium Corporation solder pastes that meet longer mission profiles, higher operating temperatures, and increased thermal cycles
Products

Driving Reliability
Solder Pastes
Indium Corporation produces a wide range of SAC305 solder paste products to fit every need and challenge in the PCB Assembly and semiconductor manufacturing market space. Solder paste can be manufactured in hundreds of alloys and with powder sizes ranging from Type 3 to Type 8. Solder pastes are available for a wide variety of process deposition techniques, including printing, dipping, dispensing, jetting, and pin transfer assembly. Each formula is specifically designed to meet the gamut of manufacturing challenges that plague the electronics manufacturing industry. Whether you are dealing with warpage-induced defects, voiding, insufficient solder paste volume, or electrical or mechanical reliability issues, Indium Corporation's solder pastes—coupled with our world-renowned technical support—allow for the lowest total cost of ownership and fewer end-of-line-defects.
Indium8.9HF
Halogen-Free, No-Clean Solder Paste for Automotive Applications
Indium8.9HF is a proven solder paste series that delivers no-clean, halogen-free solutions designed to produce low-voiding, enhanced electrical reliability, and improved stability during the printing process. Indium8.9HF provides a unique oxidation barrier technology that eliminates HIP defects and graping, making it perfectly suited for automotive and electronics assembly applications.
Halogen-free
Low-voiding QFN, DPAK, and BGA packages (<15%)
60 hours stencil life (22–28°C and 30–60 RH)
12 months refrigerated storage (0–10°C)
Head-in-pillow and graping elimination with unique flux oxidation barrier technology
Excellent pin-in-paste and through-hole solderability
Proven to be compatible with SAC305
Compatible with different conformal coatings, such as polyurethane, acrylic, and silicone
No dendritic growth under high-power, low-standoff MOSFETs (as validated with automotive customers)
Proven low ionics (1.56µgrams/sq.cm)
Meets HKMC MS184-01 testing criteria Type B—one of the automotive industry's most stringent reliability criteria
Exceeds all requirements for enhanced electrical reliability and SIR performance
| | | |
| --- | --- | --- |
| Minimum SIR requirement | 5,000 MOhms | 100 MOhms |
| Time | 1,000 hours | 168 hours |
| Spacing | 0.2mm | 0.5mm |
| Voltage | 10V, 50V | 5V |
| SIR coupon | B52 | B24 |
Indium10.8HF Pb-Free Solder Paste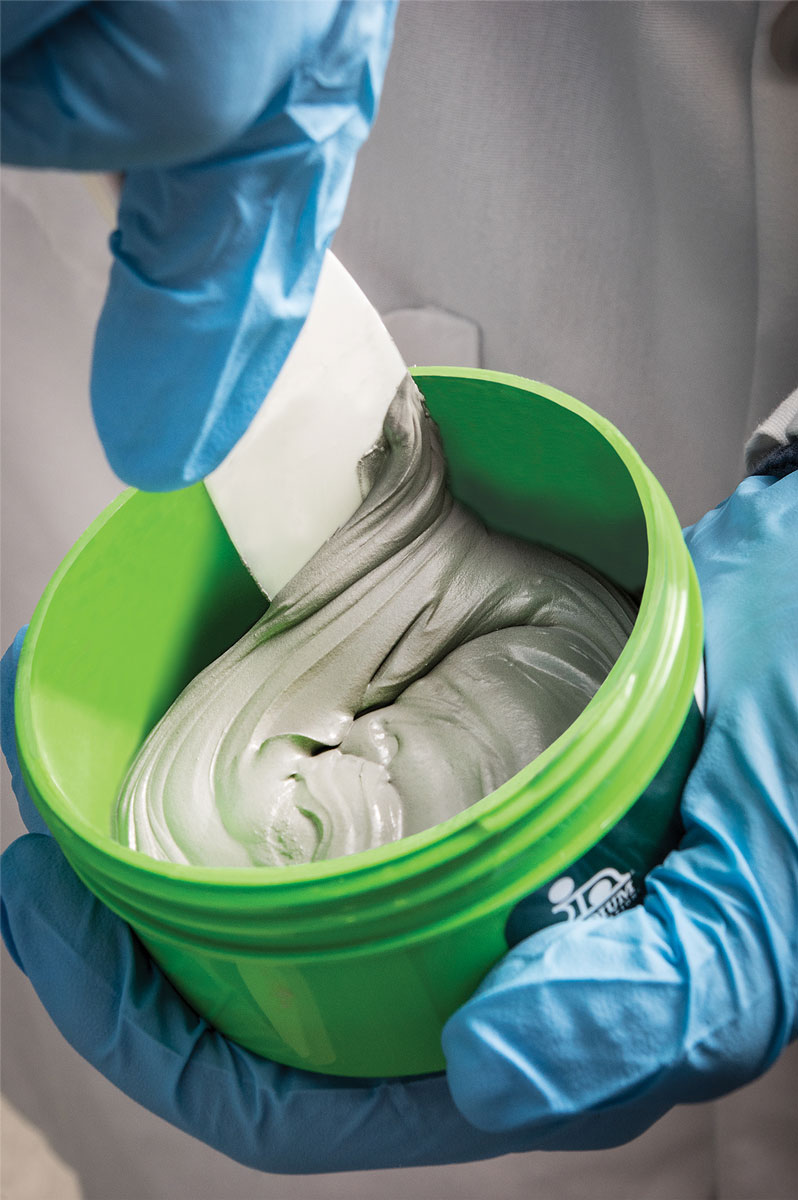 Indium10.8HF Pb-Free Solder Paste Addresses
Non-Wet Opens (NWOs)
Indium10.8HF solder paste enables low cost of ownership to PCB assembly customers through an all-around balanced performance, including stencil printing yields, low voiding, and soldering yields.
Indium10.8HF is versatile, with a balanced set of properties:
Meets leading OEM standards for non-wet open resistance
Oxidation barrier technology delivers strong resistance to:

Head-in-pillow defects
Graping (non-coalescence of powder particles)

Strong surface oxide cleaning and pad wetting during reflow ramp
Low voiding on BGSs, CSPs, and QFNs
Outstanding printing performance with high transfer efficiency and low variability
Excellent response-to-pause
Indium10.8HF works best in applications that require:
Warpage-induced defect elimination, such as non-wet opens and HIP. These are typically BGA microprocessors with thin core substrates and high IO counts that are found in PCs and tablets
Key Features:
Excellent non-wet open and HIP resistance
Low voiding on BGA/CSP/QFN
Outstanding print transfer and response-to-pause performance
Good all-around balanced performance
Durafuse®LT
Low-temperature drop shock solution (*Patent Pending)
Durafuse®LT is a novel solder paste mixed-alloy system for low-temperature reflow processes which require high drop shock reliability. Durafuse®LT is made-up of a low-melting indium-containing alloy and a higher-melting SAC alloy. The SnInAg alloy initiates joint fusion while the SAC alloy provides strength and durability. Durafuse®LT is ideal for high-reliability applications, which utilize thermally-sensitive components.
InFORMS®
InFORMS® are reinforced solder preforms that help maintain a uniform bondline thickness. This maximizes the thermal and mechanical reliability of the solder joint, along with improving its strength. InFORMS® can be manufactured in a wide variety of shapes, including rectangles and discs, as well as custom shapes to suit specific application requirements. InFORMS® also come in the form of ribbon for automated assembly.
Indalloy®133
Indalloy®133 solder is a common lead-free solder. Antimony added to tin increases the melting temperature rather than forming a lower melting eutectic. The stability of the SnSb intermetallic compound (IMC) is an advantage in higher temperature applications where the stability of SAC alloys is marginal. The tin matrix of the SnSb alloy remains ductile while the antimony in solution provides solid solution strengthening. The grain refining effects of the IMC promotes toughness at low temperatures associated with finer grain sizes. For more information about Indalloy®133, please download our product data sheet.
Quality

Assurance
IATF Certified
Indium Corporation has demonstrated effective implementation of a management system that satisfies the tough global auto supply chain standard recognized by automotive industry leaders worldwide. Designed to improve customer satisfaction by meeting customer requirements and needs with high-quality products, IATF 16949 provides a critical guiding framework for the industry and encourages an internal culture focused on ongoing improvement.
The IATF 16949:2016 is an international Automotive Quality Management System Standard aimed at continuous improvement, emphasizing defect prevention, and reducing variation and waste in the automotive industry supply chain.
To find out more, please select a region to view region-specific certifications.
HKMC MS184-01 (Type B) Testing Criteria
Indium Corporation's Indium8.9HF is an ultra-reliable, void-reducing solder paste for automotive applications. It meets HKMC MS184-01 (Type B) testing criteria, which is one of the automotive industry's most stringent reliability criteria.
Contact us to find out more about our other products that also meet HKMC MS184-01 (Type B) testing criteria.
Industry

Membership
Automotive Electronics Council (AEC)
e-Mobility

Expert
Global Head
e-Mobility & Infrastructure