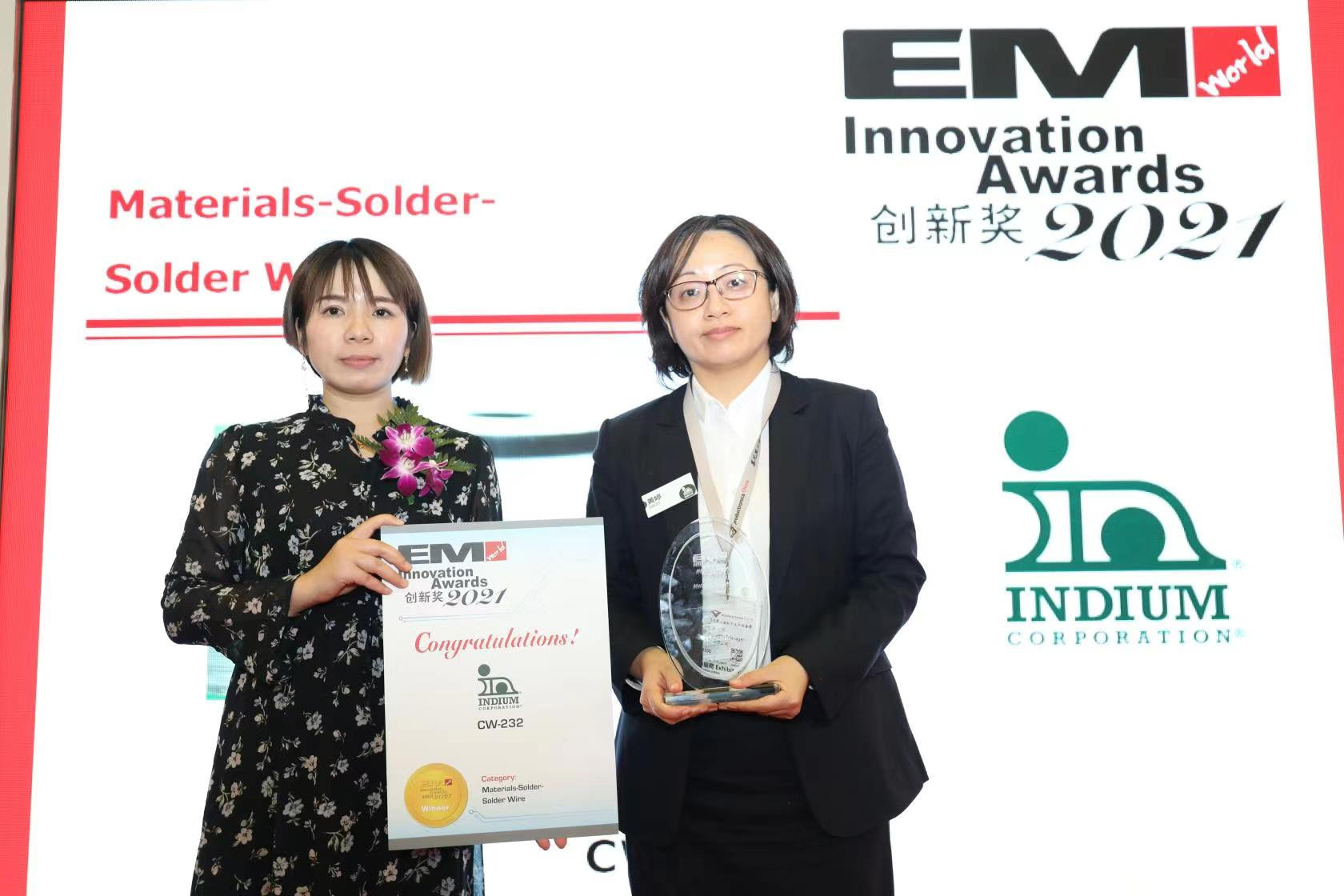 Indium Corporation­ Receives EM World's Innovation Award
March 23, 2021
Indium Corporation earned Electronics Manufacturing (EM) World's Innovation Award for its new flux-cored wire for robotic and laser soldering. The award was presented on Thursday, March 18 in Shanghai, China, during Productronica China.
The EM Innovation Award program recognizes and celebrates excellence in the electronics industry, encouraging companies to achieve the highest standards and push the industry forward.
"We are honored to have CW-232 recognized by EM World," said Robert McKerrow, senior product specialist. "CW-232 features a rare combination of fast-wetting and ultra-low spattering, attributes not often seen together in a highly active no-clean flux-cored wire. Its unique formulation delivers enhanced product efficiency, reducing the need for timely rework or cleaning that could impact yield."
Indium Corporation's CW-232 is a uniquely formulated flux-cored wire developed to meet the demanding requirements of robotic and laser soldering applications by delivering additional wetting power in order to achieve higher throughput.
CW-232 also works exceptionally well in hand soldering applications. Due to its "no-spatter" technology, CW-232 eliminates flux spattering that can burn operators' hands, impair the vision system of the robotic soldering machines, or make finished products less aesthetically appealing.
Indium Corporation's CW-232 offers:
Extremely low-spatter performance
Very fast wetting, even capable of soldering to heavily-tarnished surfaces
Light-colored residue
Compatibility with Pb-free and SnPb alloys
Compatibility with HASL, immersion silver, ENIG, and OSP surface finishes
About Indium Corporation
Indium Corporation is a premier materials refiner, smelter, manufacturer, and supplier to the global electronics, semiconductor, thin-film, and thermal management markets. Products include solders and fluxes; brazes; thermal interface materials; sputtering targets; indium, gallium, germanium, and tin metals and inorganic compounds; and NanoFoil®. Founded in 1934, the company has global technical support and factories located in China, Germany, India, Malaysia, Singapore, South Korea, the United Kingdom, and the U.S.
For more information about Indium Corporation, visit www.indium.com or email jhuang@indium.com. You can also follow our experts, From One Engineer To Another® (#FOETA), at www.facebook.com/indium or @IndiumCorp.
About Electronics Manufacturing (EM) World
EM World provides the latest information in the industry for professionals engaged in PCB component design, assembly, and testing in Asia; it has also become a contract manufacturer (EMS/ODM) and an OEM company and provides them with equipment, materials, and software. It is considered the authoritative magazine to learn about the latest development trend of SMT, electronic packaging, and interconnection technology with the overall solution supplier/agent.