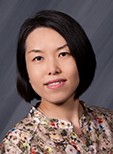 Senior Account Specialist
Indium Corporation
Phone: +86 13901548266
E-mail: mhe@indium.com

Biography
Michelle is an Account Specialist at Indium Corporation's Suzhou facility. She is responsible for providing customer service, ensuring customer needs are addressed, and working with outside sales to locate and secure new business.
Michelle joined Indium Corporation in 2004. Prior to joining Indium Corporation, she worked in administration and customer service.
Michelle graduated with honors from the University of Bradford in Singapore where she earned a bachelor's degree in business management. In her spare time, she enjoys reading, music, and cooking.