Related Solder Paste Technical Papers
Related Solder Paste Videos
Related Solder Paste Blog Articles
Solder alloys need to work well on all sorts of surfaces. But we were really impressed with the difference Indalloy®292 made on OSP boards - even against other high-reliability alloys.
Read More
Features & Benefits
Powders are available in hundreds of alloys and sizes from Type 3-7, including Type 5MC, Type 6SG, and Type 7SG. Solder pastes can be made from these powders using a wide variety of flux vehicles to achieve the best results for your applications. Specialized pastes are available for printing, dipping, dispensing, and pin transfer assembly.
BiAgX®
BiAgX®: A Drop-In Replacement for High-Pb Solders
Environmental and legislative concerns are driving consumers away from products that contain lead, including solders used in die-attach applications for analog semiconductor assembly.
BiAgX® is a high-melting, lead-free (Pb-free) solder paste technology that serves as a DROP-IN replacement for the high-Pb solder pastes used in many high-reliability die-attach and electronics assembly applications.
BiAgX® is the ONLY low-cost, lead-free replacement solder paste that is customer-proven to survive JEDEC/IPC J-STD-020 MSL1 preconditioning in specific devices without delamination.
Lead-Free (Pb-Free)
We offer a wide range of Pb-free solder pastes, including:
Tin-Lead (SnPb)
Indium Corporation offers a number of SnPb solder pastes for circuit board assembly and high-Pb applications common in semiconductor packaging.
With decades of proven flux technology, these solder pastes will provide you with the highest end-of-line yields.
No-Clean
Product Name
Value Proposition
Indium8.9HF
Best all-around halogen-free paste
Indium8.9ES
Excellent print transfer efficiency for the broadest range of processes
NC-SMQ92H
Modified version of NC-SMQ92J that maximizes print performance
NC-SMQ92J
Industry-leading solder paste with a soft residue that reduces false failures at ICT
NC-SMQ51SC
Exceptional stencil life and tack strength, and consistent print definition in ultra-fine pitch applications
NC-SMQ80
Specialty solder paste (InPb) for soldering to gold surfaces
Water-Soluble
Product Name
Value Proposition
Indium6.6HF
Superior wetting to a variety of surface finishes and exhibits the best voiding performance
Indium6.4R
A versatile, low-voiding solder paste (InPb)
Indium6.3
A low voiding solder paste with a wide reflow window
RMA
Product Name
Value Proposition
RMA-155
Low voiding solder paste with a wide reflow window
RMA-SMQ51AC
A no-clean RMA solder paste with excellent soldering performance
Package-on-Package Paste
Package-on-package (PoP) assembly is most commonly carried out by printing solder paste onto the substrate and then placing the logic chip into the paste. The memory package is then dipped into a PoP solder paste or flux, placed on top of the logic chip, and then reflowed. This is generally a no-clean process.
| | |
| --- | --- |
| PoP Paste 9.91 | Eliminates defects due to package warping; is suitable for use down to 0.3mm pitch |
| PoP Paste 9.88 | Designed for use with SAC305; suitable for use down to 0.4mm pitch |
| PoP Flux 89HF-LV | Designed for Pb-free solders; has unique halogen-free activator system |
| PoP Flux 89-LV | Excellent solderability to Cu-OSP, AuNi, and Ag finishes; optimized for SAC applications |
| PoP Flux 89LV-B | A blue/black version of Indium89LV |
| PoP Flux 89LV-P | A pink version of Indium89LV |
| PoP Flux 23LV | A clear, non-brittle residue with an extended pot life; ideal for packages up to 25mm x 25mm |
Solder Fortification® Preforms
Obtaining the precise amount of solder to ensure a stronger solder joint is critical in electronics manufacturing. However, miniaturization trends, such as the reduction of stencil thickness and more tightly fitted components, make this increasingly difficult. Solder Fortification® Preforms can provide the solution for these challenging issues.
Solder Fortification® Preforms are rectangular shaped pieces of alloyed metal that do not contain any flux. The preform is added to a deposit of solder paste using standard pick and place equipment. Since the alloy for both the preform and the solder paste are the same, the preform will reflow at the same temperature as the solder paste, with the solder paste providing the necessary flux. The preform increases the volume of solder above what could be achieved with just solder paste, especially for applications using stencils with a pitch of 0.3mm or less.
Advantages
The advantages of Solder Fortification® Preforms include:
Stronger solder joints, which help improve drop test results
Increased solder volume compared to what could be achieved with just solder paste
Fewer issues with flux residue as the solder-to-flux ratio is increased
Reduced rework and other manual processes to add solder volume
Elimination of costly or time-consuming processes, such as wave soldering or selective soldering
Improved shape and volume of fillet to ensure joints meet IPC specifications
Solder Fortification® Solution Options
Name
Size
Quantity Per Reel
Example Weight: SAC305 (grams/ea)
7"
13"
0201
.010" x .020" x .010"
(0.254mm x 0.508mm x 0.254mm)
1k
50k
0.00024
0402
.020" x .040" x .020"
(0.508mm x 1.01mm x 0.48mm)
1k
15k
0.00182
0603
.030" x .060" x .030"
(0.76mm x 1.52mm x 0.787mm)
1k
15k
0.00672
0805
.050" x .080" x .050"
(1.27mm x 2.03mm x 1.27mm)
1k
15k
0.02410
Solder Fortification® Design Guide
Email Us Your Solder Fortification® Question
Packaging
Solder Fortification® Preforms are packaged in tape & reel for easy placement by standard pick and place machines. For more information on Solder Fortification® Preform packaging, download the design guide below.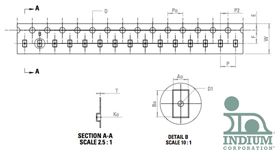 Alloys
Solder Fortification® Preforms are available to deliver a precise amount of solder in virtually any alloy to correspond to the alloy in the solder paste.
Common alloys include:
SAC305 and SAC387
Sn63 and Sn62
BiSn and BiSnAg
Technical and Customer Support
Selecting the right solder alloy, form, and dimensions are key to producing a quality end product. Indium Corporation can provide a wide variety of alloys, prototype to production quantities and optimized packaging for your specific application.
Our engineers offer:
A thorough understanding of each customer's needs and applications
A seasoned problem-solving attitude
Knowledge of manufacturing processes and materials handling requirements
Expertise in metal fabrication, product packaging, and customer satisfaction
Try our new Process Optimization Calculators and then contact our technical support engineers to discuss how to improve your results.
Gold-Based Solder Paste
Gold-tin solder paste is used in a variety of high-reliability applications, where its high melting point, non-creep, high-tensile stress, thermal and electrical conductivity, as well as proven usage life makes it a standard "known-good" material.
Advantages
Highest tensile strength of any solder
High melting point is compatible with subsequent reflow processes
Pb-free
Superior thermal conductivity
Resistance to corrosion
Superior thermal fatigue resistance
Good joint strength
Excellent wetting properties
Resistance to oxidation
AuSn is compatible with precious metals
AuSn is RoHS compliant
Gold-tin Solder Paste
80Au/20Sn Powder

Type 3 (25-45 microns)
Type 4 (15-38 microns)
Type 5 (15-25 microns)
Type 6 (10-20 microns)

No-clean flux

NC-SMQ51SC (used in high-power LED and MEMS)
RMA-SMQ51A (for difficult to solder surfaces in die-attach)
NC-SMQ75 (halogen-free and low-residue; requires <10ppm oxygen)

Low-volume packaging

Jars (10g per jar)
Syringes (5cc syringes)
Alternative Methods of Using AuSn
| Characteristics | Solder Paste | Solder Preform | Evaporation | Alloy Plating | Plating by Layers |
| --- | --- | --- | --- | --- | --- |
| Minimum bondline thickness | 25.00μm | 12.00μm | 0.01μm | 0.25μm | 2.50μm |
| Cleanliness | Low cleanliness (flux surface contamination) | High cleanliness (when no flux used) | High cleanliness | Good cleanliness (trace of organic impurities only) | Good cleanliness (organic co-deposit impurities) |
| Deposition equipment | Stencil printer or dispenser | Manual or pick & place | Evaporation chamber | Plating line | Plating line |
| Device heat exposure | >280°C | >280°C | >Ambient | Ambient | Ambient + diffusion heating step |
| Strengths | Low-cost equipment; manual or automated assembly; rapid deposition rate | High purity; manual or automated assembly; preforms designed to match deposition footprint | Very high purity; rapid deposition; low-cost equipment; thin to thick layers | Good purity; deposition targeted to conducting surfaces | Good purity; deposition targeted to conducting surfaces |
| Weaknesses | Flux residue inclusion; thick deposits only; requires diffusion step; requires cleaning; refrigerated storage | Expensive automation equipment; thick depositions only; accurate manual placement difficult, may require flux or reducing atmosphere | Wide area deposition (material loss); may require diffusion step | Expensive equipment; difficult to control composition; low deposition rates | Expensive equipment; difficult to control composition; low deposition rates; requires diffusion step |
Factors to consider
Higher yields and cost per unit make gold a viable option, even though the initial cost is higher than alternative solders
A low oxygen atmosphere may be required if the application is flux free
Some applications require pressure to promote good, void-free reflow on horizontal surfaces.
In step soldering or processes that may require rework, soldering to gold plated surfaces results in an intermetallic that melts at a higher temperature than the original alloy. When using the AuSn alloy, this can be addressed by using high tin-containing alloys.
Alternative methods, such as scrubbing, forming gas or formic acid, may be needed for oxide removal of the soldered surface.
Processing Options
Vacuum soldering: flux-less and void-free soldering
Die-attach: high process temperature
Reflow: convection, infrared, and induction
Laser soldering: targeted soldering
Vapor phase reflow: uniform heating
Manual Soldering: solder iron, hot plate, ultra sonic, and dipping
Jetting and Microdispensing Solder Paste
Jetting and microdispensing solder pastes are specifically formulated for fine-pitch and ultra-fine dispensing/jetting for various applications. Indium Corporation's jetting and microdispensing pastes provide reliable dispensing of consistent size deposits in automated dispensing or jetting equipment.
Jetting or microdispense solder pastes include no-clean and water-soluble solder pastes, and are used with SnAgCu and SnPb alloy systems. It is important that they ONLY be used with the matched printable solder pastes. These products are designed for reflow in air or nitrogen atmosphere of 100ppm oxygen or less.
Process Optimization Calculators
Technical Support