Introduction
Indium Corporation is introducing its patent pending 3D EZ Release™ system for powder bed fusion (PBF) metal 3D printing for making the removal of parts fast and simple.
PBF printers are capable of printing the most advanced metal parts, in a wide variety of build materials. In the standard PBF process, the printed parts are fused to the build plate and need to be mechanically separated using an electrical discharge machine (EDM), wire saw, or some other form of cutting tool. This can be time-consuming and costly.
Features & Benefits
Indium Corporation's 3D EZ Release™ print plate replaces the top layer of the build plate with a low-melting point alloy. The laser-sintered printed parts are bonded to the alloy layer, and separation is achieved by melting the alloy at a relatively low temperature of about 200°C by using, for example, a hot plate or a standard oven. No EDM or other cutting saw is needed to remove the parts from the build plate. This simplifies the entire production sequence, lowers the footprint needed for parts removal, and results in a reduced cost of ownership of the entire additive manufacturing operation. In many cases, our 3D EZ Release™ print plate can also eliminate the need for support structures and stand-offs.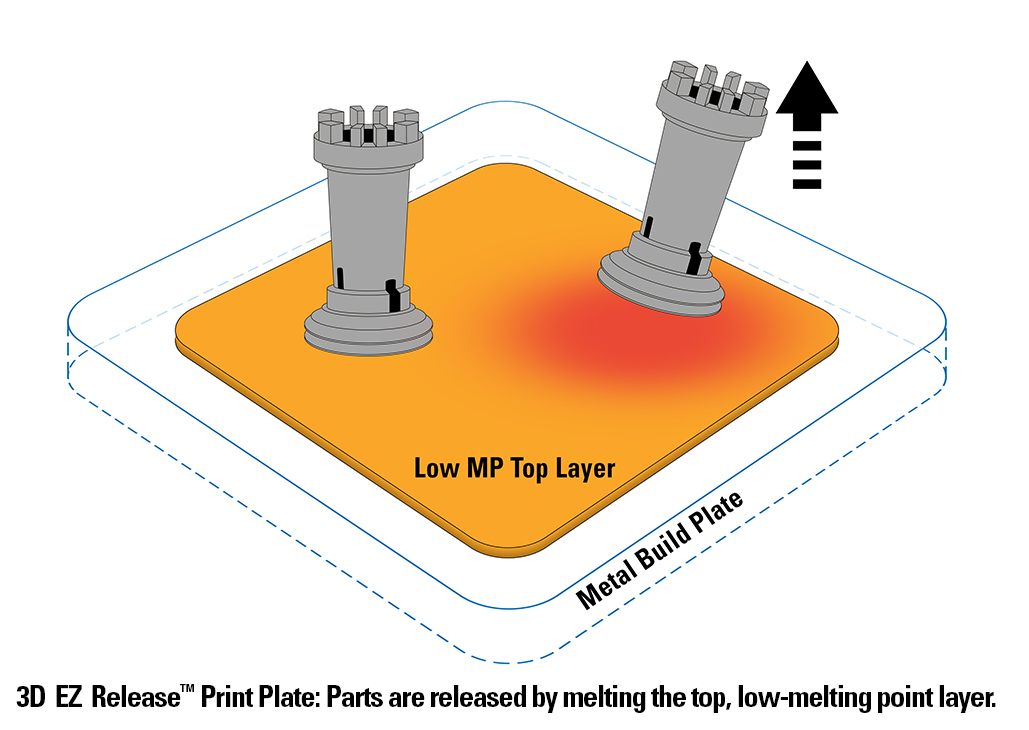 The 3D EZ Release™ print plate is available in a 3.5" x 3.5" size, and ready to ship. This plate is compatible with the standard build plate for a GE Additive/Concept Laser/Mlab Cusing printer. Plates for other printers are made to order—please call us to discuss your specific needs.
Re-Use & Refinish
After cooling down, the solidified alloy surface of the 3D EZ Release™ print plate will be ready for re-use in printers that use soft recoater blades. We also offer a low-cost refinishing service—all you need to do is send used plates, containing the remaining alloy, back to us in an included, prepaid container. We will recycle the alloy and refinish the build plate. This allows us to offer refinished 3D EZ Release™ print plates at a lower price point.
For quotes and evaluation samples: