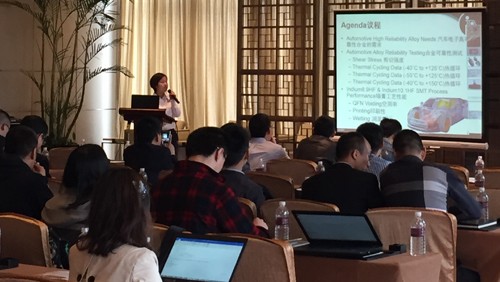 Indium Corporation and SMT Host Joint Technology Seminar on High-Reliability Automotive Electronics
May 31, 2017
Indium Corporation and SMT hosted a joint seminar on May 5 in Shanghai, China featuring technical discussions on Materials and Equipment Selection for High-Reliability Automotive Electronics.
More than 70 attendees engaged with technical experts from both Indium Corporation and SMT for technical presentations and in-depth discussions on some of the biggest challenges to achieve high-reliability in automotive electronics.
Topics included:
Addressing new challenges in the SMT process using project development flow charts
Design for excellence (DFX) on high-density assemblies
Alloys and equipment for high-reliability applications
TS16949 material development for the production part approval process
Indium Corporation is a premier materials manufacturer and supplier to the global electronics, semiconductor, thin-film, and thermal management markets. Products include solders and fluxes; brazes; thermal interface materials; sputtering targets; indium, gallium, germanium, and tin metals and inorganic compounds; and NanoFoil®. Founded in 1934, Indium has global technical support and factories located in China, Malaysia, Singapore, South Korea, the United Kingdom, and the USA.
For more information about Indium Corporation, visit www.indium.com or email jhuang@indium.com. You can also follow our experts, From One Engineer To Another® (#FOETA), at www.facebook.com/indium or @IndiumCorp.