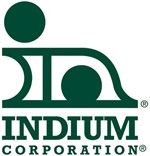 Indium Corporation Earns International Automotive Quality Recognition – ISO/TS 16949
January 16, 2018
Indium Corporation has been awarded ISO/TS 16949 management system certificates for two of its manufacturing facilities and company headquarters.
"SRI Quality System Registrar (SRI) is pleased to acknowledge that Indium Corporation has demonstrated effective implementation of a management system that satisfies the tough auto standard: ISO/TS 16949," stated Edward L. Maschmeier, Director, Certification. "This certification shows their automotive customers worldwide that Indium Corporation is committed to being recognized as a long-term supplier of quality goods and services."
Indium Corporation's Business Park Drive facility in Utica, N.Y., earned an ISO/TS 16949 management certificate for the design and manufacturing of brazing and solder materials as ribbon, wire, preforms, and engineered solders; flux-coated materials; NanoFoil®; sputtering target bonding; pure indium metal and fabricated indium metals for electronics assembly.
Indium Corporation's headquarters and manufacturing operations in Clinton, N.Y., earned certification for the design and manufacture of solder powders, solder pastes, soldering fluxes, epoxy, and related materials for semiconductor manufacturing and electronics assembly.
"Quality, precision, and reliability are core tenets at the heart of every activity at Indium Corporation," said Ross Berntson, Indium Corporation President and COO. "These certifications are formal evidence of the commitment to quality as a core operating principle since Indium Corporation was founded more than 80 years ago."
The ISO/TS 16949:2009 is an international technical specification standard aimed at the development of a quality management system that provides for continuous improvement, emphasizing defect prevention, and the reduction of variation and waste in the automotive industry supply chain.
Indium Corporation is a premier materials manufacturer and supplier to the global electronics, semiconductor, thin-film, and thermal management markets. Products include solders and fluxes; brazes; thermal interface materials; sputtering targets; indium, gallium, germanium, and tin metals and inorganic compounds; and NanoFoil®. Founded in 1934, the company has global technical support and factories located in China, Malaysia, Singapore, South Korea, the United Kingdom, and the USA.
For more information about Indium Corporation, visit www.indium.com or email abrown@indium.com. You can also follow our experts, From One Engineer To Another® (#FOETA), at www.facebook.com/indium or @IndiumCorp.